Potential Samsung Galaxy Golden 3 specs from certification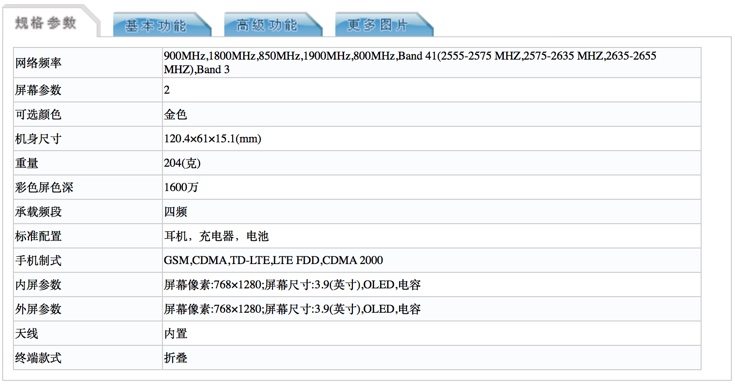 Last month we informed readers about a benchmark spot of a device thought to be the Samsung Galaxy Golden 3. It turned up with model number SM-W2016 and the benchmark appearance revealed some specs of the device. Now potential Samsung Galaxy Golden 3 specs have shown up again, this time from the certification process.
The Galaxy Golden that released in 2013 was a clamshell device, and although flip phones are pretty scarce these days they are still popular with some buyers. The Samsung handset with model number SM-W2016, widely thought to be the Samsung Galaxy Golden 3, has now appeared at the Chinese regulatory authority TENAA. This certification process is usually one of the last we see before an official reveal, so the launch may not be too far away.
The certification filing gives many of the specs of the phone. These include a 2.1GHz octa-core processor, 3GB of RAM, and 64GB of internal storage (non-expandable). It also reveals a 16-megapixel rear camera with 1080p video capture, and 5-megapixel front-facing snapper, and the phone is running the Android 5.1.1 Lollipop OS. The handset measures 120.4mm x 61mm x 15.1mm weighing in at 204g, and is listed with mobile phone standards GSM, CDMA, TD-LTE, LTE FDD, and CDMA 2000.
Much of this ties in with the previous specs ascertained by the benchmark appearance, except for one thing. The GFX Bench database listing included a 4.6-inch HD display, but we often point out that benchmark listings are not always 100% accurate. The new TENAA revelation lists 3.9-inch internal and external OLED displays with resolution of 1280 x 768, which makes much more sense for a flip phone.
Unfortunately the certification spot didn't include any images of the device, said to be in a gold color as befits the Samsung Galaxy Golden 3 name. Of course until we hear something official from Samsung we cannot confirm the above, and it's worth noting that a Galaxy Golden 2 was spotted at TENAA last year but never released. However, it certainly looks plausible that this is the Samsung Galaxy Golden 3 and that it's getting closer to a launch.
We'll follow further developments with interest and will keep you informed. Are you hoping that a Samsung Galaxy Golden 3 is indeed on the way?