Samsung top phones with $100 price savings at T-Mobile now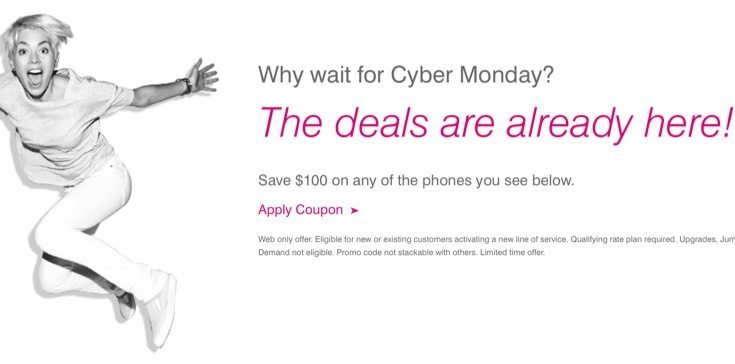 It's that time of year again, and as the holiday season gets closer hype is growing for Black Friday and Cyber Monday sales. In fact some retailers are not even waiting for the traditional time and are launching offers early, and one of those is T-Mobile. Some of Samsung's top phones are now available with $100 price savings from T-Mobile, and we have more details ahead.
Only a few days ago we gave some information about Sam's Club holding a sale on November 14, with price cuts for some Apple and Samsung smartphones. Now T-Mobile is joining in the early Black Friday and Cyber Monday action with a Super Smartphone Deal promotion tagged, "Why wait for Cyber Monday. The deals are already here."
Price savings of $100 are available on a wide variety of phones, including the LG G4 and LG V10, and also the Apple iPhone 6, iPhone 6 Plus, iPhone 6S and iPhone 6S Plus. Those of you reading this will be most interested in the Samsung handsets that are up for grabs though. However, you might want to be quick, as this is a limited time promotion, and it's not clear how long it will last.
The Samsung phones that are eligible for the $100 discount are the Samsung Galaxy S6, Galaxy S6 Edge, Galaxy S6 Edge+, Galaxy Note 4, and Galaxy Note 5. There really are some of Samsung's best smartphones at the moment, although there are some conditions that apply to this promo.
New and existing customers who want to take advantage of this offer will need to activate a new line of service and also purchase a qualifying rate plan. As well as this you should be aware that you cannot use other offers alongside this promotion. To get this price saving you need to hit "Apply Coupon" on the promo page (see source below) before checking out to add the $100 discount.
These offers are available online-only and not through T-Mobile US brick and mortar stores. Are you going to take advantage of this current $100 price saving T-Mobile promotion for any of the Samsung Galaxy phones listed above?
Source: T-Mobile
Via: SamMobile