Paris attack stems Facebook profile pic change for solidarity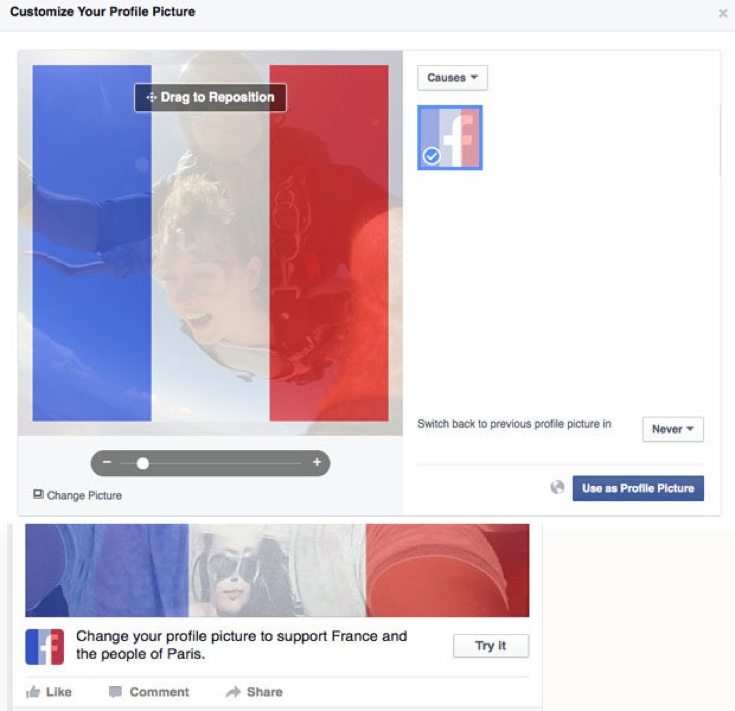 There are shockwaves around the world today caused by the dreadful tragedy in Paris last night. Much of the world is uniting against these actions and sharing thoughts on social media through mobile apps. Now the Paris attack has stemmed a special Facebook profile pic change, as a way of showing solidarity to the victims.
At the time of writing almost 130 people are confirmed dead in the shooting incidents that took place across Paris, while many more are critically injured. Many people are turning to Facebook and Twitter to share their thoughts on show support for the people of France, with #PrayforParis and #PrayforPeace trending on Twitter.
The WSJ reports that Google is making international calls to France through its Hangouts mobile app free throughout the weekend, so that people can try to find out about friends and relatives. Facebook has also re-introduced the Safety Check system that was used following the Nepal earthquake. This helps those who have been involved in an incident as they can use the system to notify other that they are safe. Of course it also helps friends and family anxious to find out if loved ones are safe.
Today Facebook has also introduced another way of showing solidarity with the people affected by the Paris attack. The update for Facebook says, "Change your profile picture to support France and the people of Paris." Users can now change their profile picture with a French flag filter. The original image used for the profile is still apparent but it appears with the colors of the French flag atop.
While this may seem like a drop in the ocean compared to the scale of what has happened, it seems to us that this is a great way of showing respect for the victims, families, and all of those affected by the Paris attacks and who worked on the scene to help. Have you been using social media to show your support after the heinous Paris attack? Maybe you have already changed your Facebook profile picture to show solidarity?