Swipe launches the Swipe Junior for Kids in India for Rs. 5,999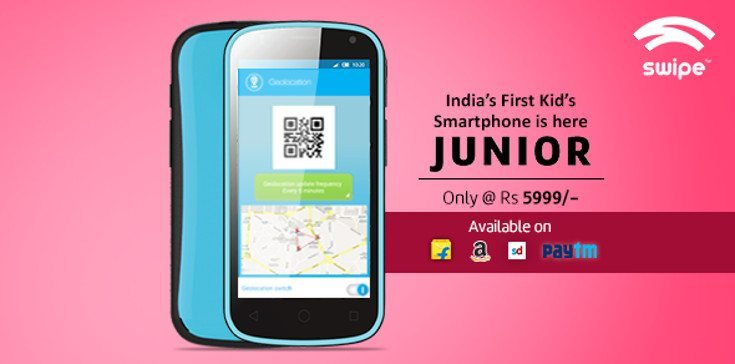 Swipe is a brand we've touched on several times this year. While all of their devices have been for big kids, now they have something for the little ones with the Swipe Junior smartphone.
As tech gets better, we're going to see it in the hands of children at an earlier age. Samsung and plenty of other companies already have tablets built for tots, and now Swipe is throwing its hat into the ring as well. The Swipe Junior is most definitely geared towards kids, and while the specs won't impress, its price tag will.
First and foremost for the Swipe Junior are the parental controls, as it's a smartphone and you don't want to just turn them loose online. You can monitor their app usage and manage which apps or games they can use. The device features geo-tracking as well, and there is a handy SOS button of sorts that allows a contact to be reached quickly.
As for the Swipe Junior specs, the device has a 4.5-inch display and gets its horsepower from a dual-core chip clocked at 1.3GHz. The storage capacity is listed at 4GB, and you'll get 512MB of RAM to go along with a 2MP/0.3MP camera combo. Rounding things out for the Swipe Junior is 3G, GPS, Wi-Fi, Bluetooth and a 1,900mAh battery. The OS wasn't mentioned, but we assume it's a heavily forked version of Android.
The Swipe Junior is ready to roll from various e-tailers across India, and may prove a popular choice for parents for the holidays. The Swipe Junior price is listed at Rs. 5,999 if you're interested in picking one up.
via – Gadgets NDTVÂ  Â  source: Swipe