UMi Rome set to sport 3GB of RAM and 64-bit chip for $89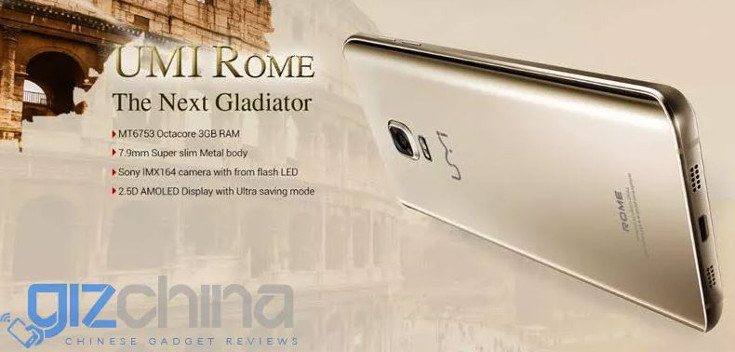 Prices on smartphones with great specs have fallen considerably, and that doesn't appear to be changing anytime soon. Most of the action is taking place in the Far East, and UMi is gearing up to make a splash with the upcoming UMi Rome.
Rome wasn't built in a day and neither are great smartphones. Like many manufacturers, UMi started out with a steady stream of mid-rangers, but the UMi Rome is a bit different. The device is being tipped as the smartphone to beat in the budget wars, and while we don't have a full listing of the UMi Rome specs, they are off to a good start.
The UMi Rome is set to have a 64-bit octa-core chip in the MediaTek MT6753, and that processor is backed up by 3GB of RAM. Nothing has been mentioned in regards to the display size, but it will have 16GB of expandable storage, a 2,500mAh battery, and an LED flash for the front-facing camera. The design appears to be similar to the Galaxy S6, but we haven't seen the front of the handset yet.
On paper, the UMi Rome isn't going to set the world ablaze but will certainly get the job done. The UMi Rome price is what is going to make it special as the company says they will sell it for only $89. That's cheap for any handset running Android 5.1, but a steal when you consider the RAM and chipset. At this time, we have no idea of when the UMi Rome will hit the streets but we'll keep you in the loop as we learn more.
via – Gizchina