LG V10 benchmarks vs Note 5, Nexus 6P, Xperia Z5, more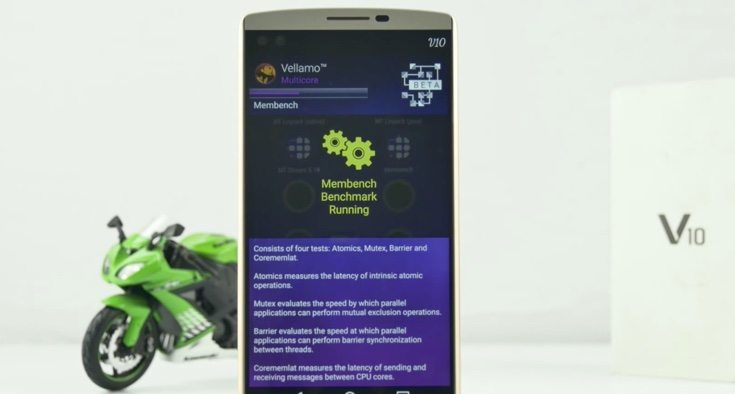 The LG V10 is a dual-screened phablet that was announced in October. It has some high-grade specs that should attract plenty of buyers and is releasing in various regions worldwide. It's always interesting to see benchmark performance of a new high-end phone compared to others. With this in mind we're looking at LG V10 benchmarks vs. Note, 5, Nexus 6P, Xperia Z5 and more.
We'll run through some of the key performance specs of the LG V10 first. It has a Snapdragon 808 hexa-core processor (two cores at 1.82GHz and four at 1.44GHz), Adreno 418 graphics, and 4GB of RAM. It runs the Android 5.1.1 Lollipop OS and those dual screens consist of a 5.7-inch main display with Quad HD resolution of 2560 x 1440, and a secondary 2.1-inch display with resolution of 1040 x 160. You can find out more in our specs comparison of the LG V10 vs Galaxy Note 5.
With specs like this we should expect a good LG V10 benchmarks outcome, and Fone Arena has put this to the test. The video embedded beneath this post shows various benchmark tests being conducted on the LG V10. The tests involved are AnTuTu 5, Vellamo 3.1, Geekbench 3.0, GFXBench, Basemark X 1.1, 3DMark Ice Storm Unlimited, and Basemark OS II.
After each test is performed on the LG V10 you'll then see the scores achieved. These are then placed on a table so that you can see how the benchmark results compare with other phones. Apart from those above some of the other devices are the Samsung Galaxy S6 Edge+, LG G4, OnePlus 2, and Nexus 5X. We won't ruin your enjoyment of watching the video, but it's fair to say that the LG V10 doesn't perform quite as well as you might expect.
Of course benchmark results are only one aspect of a device, so you should bear that in mind. When you've watched the video below we'd be interested to hear your comments. Are you surprised or not by the LG V10 benchmarks and how the scores compare with some other top handsets?
Source: Fone Arena (YouTube)
https://www.youtube.com/watch?v=n3531mCJxAI://