Moto X Style Android Marshmallow update reaches UK users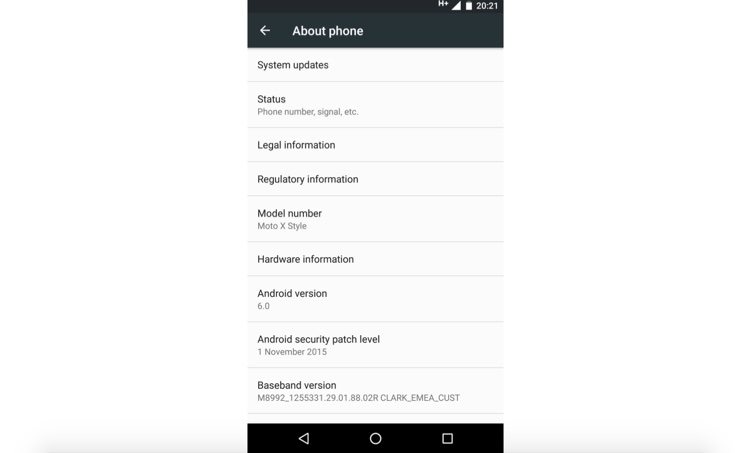 It's always gratifying to be able to tell readers of incoming software updates for their devices, and recently Motorola announced that soak testing for the Android 6.0 Marshmallow update for the Moto X Style was underway. Now it's reported that the Moto X Style Android Marshmallow update is reaching UK users of the phone.
Soak testing is a process that takes place with a limited number of device users. It tests an imminent update and ensures it's ready for use before a widespread rollout to more owners. We knew that soak testing for this Moto X Style Android Marshmallow upgrade was in progress in some European countries, and usually it doesn't take too long for this testing to be completed.
Now it appears that UK users are among the first to receive the Android 6.0 Marshmallow update for this phone, with reports that it's now arriving there for some people (see screenshot below). Of course it could be that it's also releasing in further European regions, although we've heard nothing more on this yet. Either way, once an update releases it usually spreads to further countries pretty quickly.
We're not totally surprised that the update has already started to be more widely pushed out, as we reported that this update was already rolling out for the Moto X Pure Edition a few days ago. For those who don't know, the Moto X Pure is the same as the Moto X Style but under a different name for the US. If you want to find out more about which Motorola devices will be receiving the Android 6.0 Marshmallow and what the upgrade offers, head to this Motorola page.
Owners of the Moto X Style will receive a notification that the OTA (over-the-air) update is ready, and with that in mind we'd really like to hear from readers in the UK or other parts of Europe to track its progress. Have you already received the Moto X Style Android Marshmallow update? If so, please also let us know your region?
Source: Android Police