Nexus 5X vs Nexus 5 informal speed comparison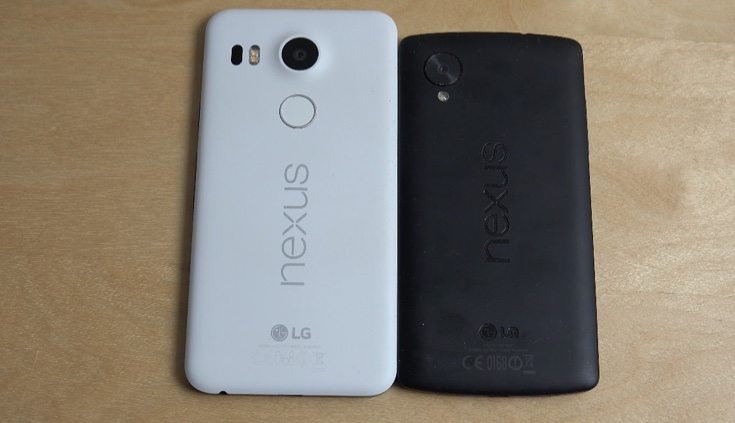 The LG Nexus 5 was a hugely popular Google Nexus smartphone when it released in 2013. Therefore plenty of people were happy to see the arrival of the Nexus 5X, also made by LG, that launched in October this year. We thought it might be interesting to take in a Nexus 5X vs Nexus 5 informal speed comparison to see how they stack up against each other in this respect.
Before we get to the speed testing we'll outline the key specs for these two Nexus phones. The Nexus 5X is powered by a Snapdragon 808 hexa-core processor (two cores at 1.82GHz and four at 1.44GHz), with Adreno 418 graphics, and 2GB of RAM. It has a 5.2-inch Full HD display and 2700 mAh battery, and it launched running Android 6.0 Marshmallow out of the box. The unit in the comparison is now running Android 6.0.1.
On the other side of the coin the Nexus 5 is equipped with a 2.3GHz Snapdragon 800 quad-core processor, with Adreno 330 GPU, and 2GB of RAM. It has a 4.95-inch Full HD display, and a 2300 mAh battery. As a Nexus device it's now upgradable to Android Marshmallow although the Nexus 5 in the video is still running Android 5.1.1 Lollipop.
Given the two-year time gap from the Nexus 5, improved specs, and the later version of Android, it seems obvious that the Nexus 5X will win any form of speed testing. However, it will be intriguing to find out if this is the case. The Nexus 5X vs Nexus 5 video that you can see below this article comes from Adrianisen and aims to find out which is faster.
It begins with a bootup speed test with both handsets shown alongside each other and being powered up simultaneously. We're not going to tell you which one is ready for action first as it might spoil the suspense for when you watch the video. After this a Geekbench 3 benchmark test is conducted on both phones. The single-core and multi-core scores for both handsets are then shown, and in fact one has a higher single-core score and the other has the better multi-core score.
Next up is an Ookla speed test with both phones shown to be running on the same WiFi network. The differences between the download and upload speeds are very apparent here. Overall though, the results are not as cut and dried as we might have imagined, and you can check that all out for yourself when you watch the video. It certainly would be interesting to see this testing again with the Nexus 5 also running Android 6.0 Marshmallow.
Are you surprised at any of the outcomes in this Nexus 5X vs Nexus 5 speed testing? Do let us know by dropping us a comment in the usual way.
Source: Adrianisen (YouTube)