Microsoft Lumia 950 on AT&T gets no-contract price cut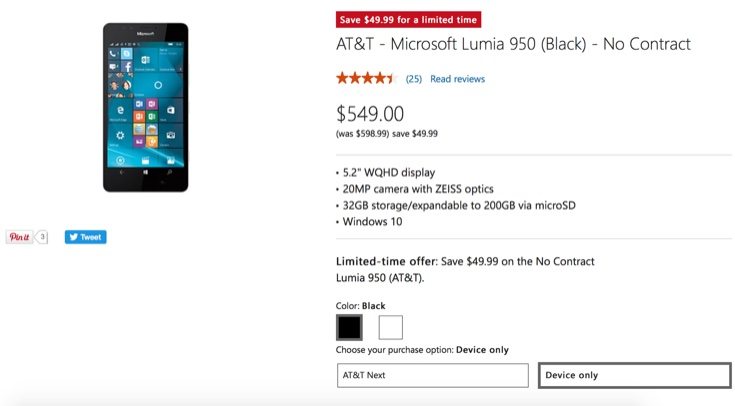 There's some excellent news today for buyers in the US who want the Lumia 950 without a contract. For a limited time the Microsoft Lumia 950 on AT&T has gotten a no-contract price cut offering a nice saving on the usual price. This deal is available directly from the Microsoft Store.
If you have been trying to get the Microsoft Lumia 950 unlocked from the Microsoft Store US you'll know that it's currently out of stock, and there's no indication of when it will be in stock again. The unlocked price is listed at $549 but that's no good if you can't actually get it of course. At the moment interested buyers can sign up to receive emails when it becomes available again.
However, if you check out the AT&T Microsoft Lumia 950 in black or white, also from the Microsoft Store, the non-contract version is currently in stock at $549. That's the same price as the unlocked model and offers a nice saving of almost $50 from the usual non-contract price of $598.99. At the time of writing it's still in stock and comes with free shipping too.
Key specs of the Lumia 950 include a Snapdragon 808 hexa-core processor, a 5.2-inch display with QHD resolution of 2560 x 1440, 3GB of RAM, and 32GB of internal storage (expandable via microSD to 200GB). It has a 20-megapixel rear camera with optical image stabilization, 5-megapixel front-facing camera, and a 3000 mAh battery. It's one of the first smartphones to release running Windows 10 Mobile out of the box.
If you want to find out much more about the Lumia 950 you might want to take a look at our earlier articles on the phone. If you want to order the Microsoft Lumia 950 AT&T no-contract version you can do so from the Microsoft Store. We'll remind you that this offer is for a limited time only, although Microsoft doesn't specify how long. Bearing that in mind, if you want to take advantage of the lower price you might want to be quick.
Have you already decided to snap up the no-contract AT&T Microsoft Lumia 950 from the Microsoft Store while this offer lasts?