Nexus 6P now on sale at Best Buy with lower price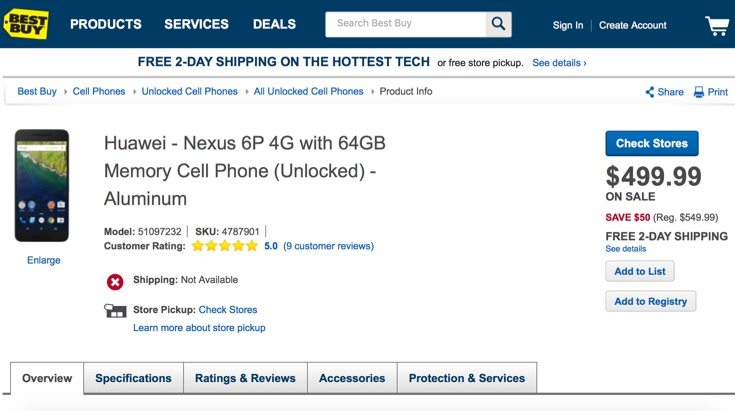 We're seeing some very nice price savings on various devices in time for Christmas, and if you were considering purchasing the Huawei-made Nexus 6P this news is for you. The unlocked Google Nexus 6P is now on sale at Best Buy with a lower price, although at this point only one of the storage models and color options is up for grabs.
It's always good to see more choice on where to purchase popular devices, and Best Buy is now offering the Nexus 6P in its brick-and-mortar stores as well as online. The phone launched in 32GB and 64GB variants for internal storage, and in Frost, Graphite, and Aluminum color choices. The option currently available at Best Buy is the 64GB Aluminum model.
The regular price of the unlocked 64GB Nexus 6P is $549.99 but Best Buy now has it for sale at $499.99, a tidy $50 saving. It's worth pointing out that last week the price of this version of the phone was also reduced on the Google Store to $499 but that price is only valid to December 30. If you order from Best Buy online it comes with free 2-day shipping so that's worth bearing in mind if you don't want to face the crowds.
We also have a snippet of news for those who are holding out for the gold colored Nexus 6P. This is dubbed the Nexus 6P Special Edition and first went on sale in Japan. However, we recently reported that it would also go on sale in India today, so there are hopes that it will soon release in further markets including the US.
If you are thinking of purchasing the Huawei-made Nexus 6P from Best Buy and want to know more about it, why not check out our previous articles on this handset. These include specs comparisons with other popular smartphones, speed testing, benchmarks, and more. Alternatively if you want to order the Nexus 6P from Best Buy, head to this Best Buy product page.
Have you decided you are going to purchase the Google Nexus 6P with this lower price tag? Send your comments to let us know.