Unannounced Samsung Tablet appears running Windows 10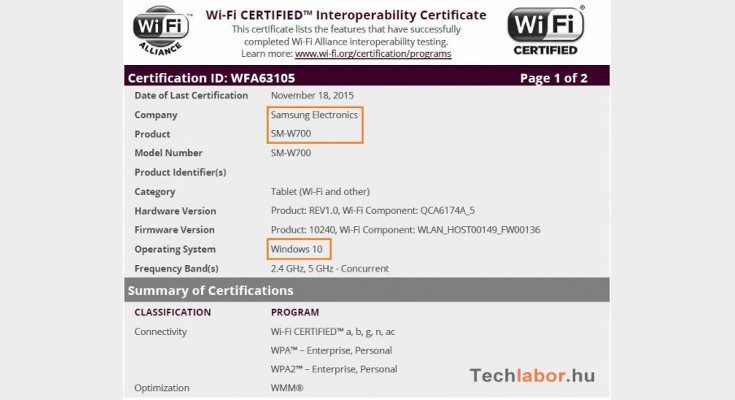 It's been a bit of a slow year for Samsung when it comes to exciting new slates, even with the gargantuan Samsung tablet known as the Galaxy View. Well, a new tablet has just been spotted undergoing certification, and the OS may come as a bit of a surprise.
Samsung tablets and Android go together like Peanut Butter and Jelly… it's a well-known fact. While Tizen has reared its head on occasion, most of the company's efforts lie in the Android world. Occasionally, they put out a Windows-based gadget, and that appears to be what we're getting soon with an unannounced tablet that's just been certified.
A tablet with the moniker SM-W700 has been certified by the Wi-Fi Alliance, and it's the same slate that appeared in an import listing back in September. Needless to say, Windows 10 is the most interesting feature of the slate although it will have a 12-inch display with a sharp resolution of 2,560 x 1,600 or 3,840 x 2,400. The device is rumored to roll out with an S-Pen, and will be powered by an Intel Core M chip and 4GB of RAM.
Samsung has put out some solid tablets over the years, and it will be interesting to see what they do with their 12-inch Windows slate. The company already has a number of devices set to roll out in the first half of the year as well, so it's safe to assume the Samsung SM-W700 release should fall alongside those devices.
Are you glad to see Samsung produce a high-end Windows tablet?
via – Microsoft-News         source: techlabor.hu,  Wi-Fi