Samsung Galaxy J5 2nd gen prospect appears in testing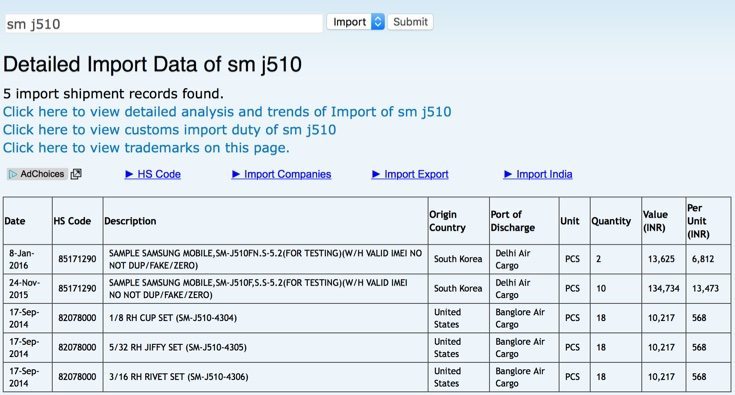 The Samsung Galaxy J5 released in June 2015 as one of the company's more affordable smartphones. It has been pretty popular, particularly in some markets, so there's likely to be plenty of interest in a 2016 successor. A Samsung Galaxy J5 2nd gen prospect has appeared in testing, so it looks as though a follow-up is on the way.
We often see the first indications of upcoming devices on Indian import/export site Zauba. It's just happened again as a Samsung handset referenced as SM-J510 has been imported to India for research and testing purposes in limited numbers. This looks more than likely to be the Samsung Galaxy J5 2nd gen (aka Galaxy J5 2016), as the current J5 has model number J500.
Unfortunately the database listing doesn't give much information about the device itself, other than having a 5.2-inch display. That wouldn't be surprising as although it's larger than the 5-inch display of the current Galaxy J5, the recently released Galaxy A5 2016 also received a 0.2-inch screen size increase over the original version.
The newest Galaxy A5 also improved to Full HD resolution display rather than the HD resolution of the first A5, so we hope that's also a possibility for the Samsung Galaxy J5 2nd gen. However, the Galaxy J series are less expensive handsets than the Galaxy A series so that might remain a hope.
If Samsung sticks to a yearly cycle for the J5 it's still a few more months before we expect the Samsung Galaxy J5 2nd gen to launch. Nevertheless we're likely to see many further leaks before then, and of course we'll keep you in the loop about further developments.
In the meantime it would be good to hear from readers about this upcoming Samsung handset. Are you a fan of Samsung's Galaxy J series of smartphones? Would you welcome a Samsung Galaxy J5 2nd gen for 2016?