New LG G5 renders show interesting design with removable battery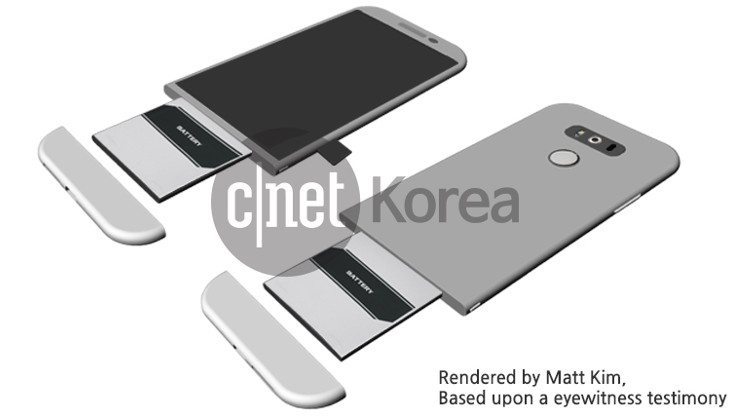 Samsung really shook things up with the design of their flagship last year, and it may be LG's turn to do the same this year. New LG G5 design rumors point towards a modular look, and one of the more interesting battery setups you're likely to see on a smartphone.
Regardless of how you feel about the Samsung Galaxy S6 design, it attracted a lot of attention. While Sammy is rumored to keep things the same for the Galaxy S7 release, it gives other manufacturers a chance to step up to the plate. LG is a likely candidate, and according to Cnet Korea, they're going to to implement a slot style system for the battery on the LG G5.
The LG G5 is said to be a metal bodied beauty with a cool trick up its sleeve…or chassis if you prefer. A render has been produced based on an "eyewitness account" of the mysterious handset, and it shows a battery that slides in from the bottom. Actually, you remove the bottom to pop the battery in which makes it even cooler. You can clearly see several other changes to the overall design of the device as well, but the removable battery and microSD card are the ones to watch.
Expandable storage and removable batteries are still a bit deal even if most of us have rapid-charging or can juice up wirelessly if we so choose. Sammy lost some customers last year when the removed both of those features from their flagship, but LG may totally revamp their design while keeping those fan favorites intact.
Would you be interested in LG's funky new design for the LG G5 if it pans out?
source: Cnet Korea