Vodafone Smart prime 7 receives FCC certification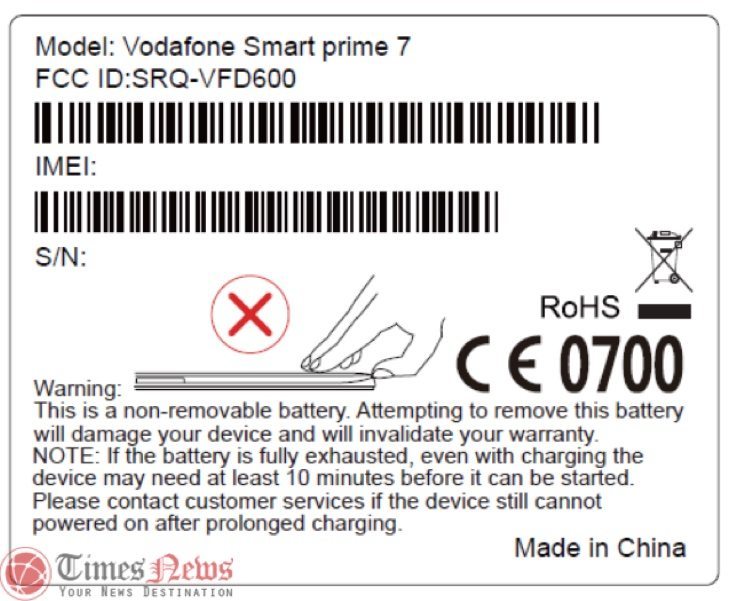 Some readers may have heard of the Vodafone Smart prime 6 budget smartphone that released last year, and now it appears a successor is on the way. The Vodafone Smart prime 7 has received FCC certification, and very often we see new devices launched soon after this process has been completed.
The Smart prime 6 launched with 4G LTE connectivity, mid-range specs, and an affordable price, and we can expect more of the same for the Vodafone Smart prime 7. The FCC filing is a necessary process for approval of new smartphones coming to the market, and the documentation reveals that the manufacturer of this phone is ZTE.
The filing shows the Vodafone Smart prime 7 name with model number VFD600. Various names are shown for the phone in the 'label' document including Vodafone Smart prime 7, Vodacom Smart prime 7, and simply the VFD 600. As expected the Smart prime 7 is shown as having 4G LTE connectivity (band 7). Further connectivity revelations from the filing include WLAN 2.4GHz band:2412MHz ~ 2462MHz, Bluetooth 2.1 + EDR, Bluetooth 4.1 LE, and NFC.
Unfortunately the FCC documentation gives no further details of specs and no images are disclosed. However, we expect some improvements (possibly minor) over the Vodafone Smart prime 6 that arrived equipped with a 1.2GHZ Snapdragon 410 quad-core processor, a 5-inch HD resolution display, 1GB of RAM, and 8GB of internal storage. The Smart prime 6 also has an 8-megapixel rear camera, 2-megapixel front-facer, and 2500 mAh battery. It launched on the Android 5.0.2 Lollipop OS.
The Vodafone Smart prime 6 was priced at $150 at launch, and we anticipate the Vodafone Smart prime 7 price to be around the same when it releases. Now that the prime 7 has passed through the FCC, we could see it made official at MWC 2016 in Barcelona next month. You can be sure we'll let you know when we hear more.
Meanwhile it would be interesting to hear your thoughts on the Vodafone Smart prime 7? Are you a potential buyer of this upcoming smartphone made by ZTE?
Source: FCC
Via: Times News