Acer Jade Primo pre-orders in Europe show steep price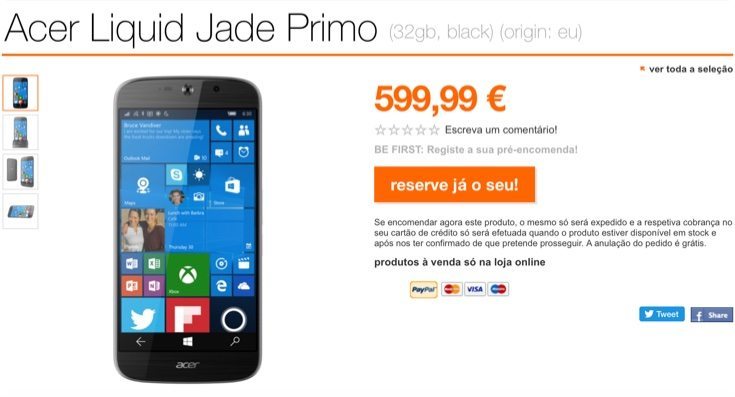 The Acer Liquid Jade Primo was first introduced last year at IFA Berlin, and earlier this month we told how the phone had now officially launched at CES 2016. The release date was set for February and it could be a good alternative for someone who wants a phone running Windows 10 Mobile that doesn't come from Microsoft. Now Acer Jade Primo pre-orders in Europe are open although it has a rather steep price.
This new smartphone from Acer is a solid offering, and at the launch it was announced that it would release first in Europe, the Middle East, and Africa. Pre-orders are now available for some prospective buyers in Europe, and so far the Acer Jade Primo is listed on the Expansys Portugal website as well as Orange.
The price stated for the Acer Jade Primo at CES earlier this month was €569, which was already a little on the expensive side. However, it's now even steeper as the pre-order price that's listed at Orange Portugal is €599. The price from Expansys was previously listed as €615, but we note that at the time of writing it's also showing as €599.
Unfortunately a precise availability date for the phone is not shown, although as we said earlier we expect it to release at some point next month. As a brief recap on specs we'll tell you that the Acer Jade Primo is equipped with a 5.5-inch AMOLED display with Full HD resolution, and it's juiced by a 2800 mAh battery.
It carries a Snapdragon 808 hexa-core processor, 3GB of RAM, and 32GB of internal storage, and it's a dual SIM handset. As far as the camera set-up is concerned you're looking at a 21-megapixel rear camera and 8-megapixel front-facing unit. The Acer Jade Primo measures 156.52mm x 75.9mm x 8.4mm, weighs 150g, and supports 4G LTE connectivity.
What are your thoughts on the Acer Jade Primo price from these pre-order listings? Could you be tempted to purchase the Windows 10 Mobile device at this price?
Sources: Orange AND Expansys (Portugal)
Via: GSMArena