HTC Desire T7 tablet specs exposed in benchmark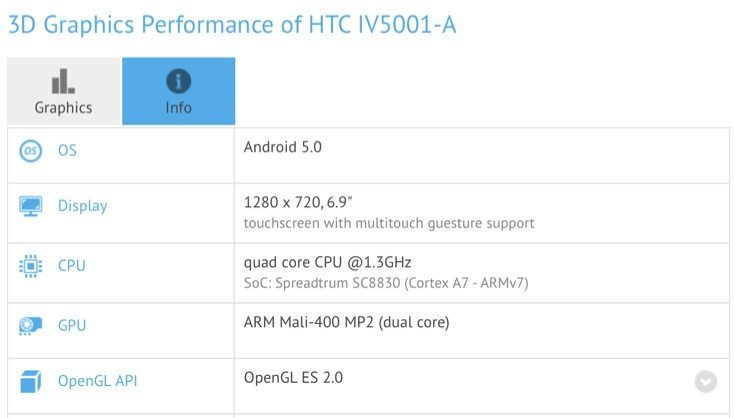 For some time now there have been rumors about an upcoming 7-inch tablet from HTC in the Desire range. The last time we wrote about this was back in June last year when the device cropped up when it was imported to India for testing. Now some HTC Desire T7 tablet specs have been exposed in a benchmark appearance.
The previous import sighting of the HTC Desire T7 didn't tell us a lot about the tablet other than it had a 7-inch display and a quad-core processor. This latest spot tells us rather more about the device. The GFX Bench database shows a device listed as the HTC IV5001-A and it's reported this will be titled as the HTC Desire T7 tablet on release.
The benchmark filing gives us some HTC Desire T7 specifications, such as a 1.3GHz Spreadtrum SC8830 quad-core processor, dual-core ARM Mali-400 MP2 graphics, and a 6.9-inch HD display with 1280 x 720 resolution. It has 1GB of RAM, 16GB of internal storage, and connectivity options that include WiFi, Bluetooth, NFC, and GPS.
Further HTC Desire T7 tablet specifications are shown as a 5-megapixel rear camera with autofocus, LED flash, and face detection, and also a 5-megapixel unit on the front. Both cameras are detailed as having Full HD video capture capability. The device was running the Android 5.0 Lollipop OS for benchmarking, although it's possible that this could be updated by the time it releases.
Bear in mind that we cannot confirm these specs, as this tablet has not been officially announced by HTC yet. However, it's often the case that benchmark sightings throw up early accurate details. There's no news yet on when the HTC Desire T7 will release, but with MWC 2016 coming up in late February we could well see it announced at the event.
From these leaked low to-mid-range specs we expect this to be an affordable tablet, and the import listing gave a unit price of Rs. 11,476, which equates to around $173 at the time of writing. However, be aware that this early price indicator doesn't always reflect the final sale price, and that prices can vary according to market.
Are you interested in a new 7-inch tablet from HTC? If the above HTC Desire T7 tablet specs are accurate, what sort of price would you be willing to pay for it?
Source: GFXBench
Via: Times News