Titan Juxt Smartwatch announced in partnership with HP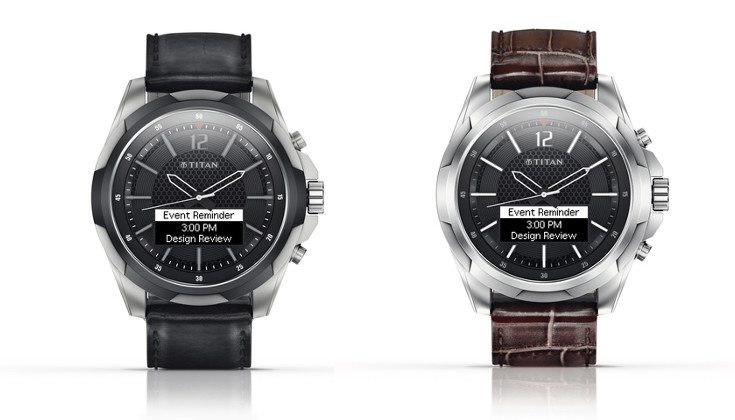 Late last year we learned HP was partnering up with Titan for a new smartwatch, and today we are getting to see the fruit of their labors. The Titan JUXT Smartwatch is now official, but it may not be smart enough for some folks tastes.
We weren't sure what to make of the Titan Smartwatch when the new first broke last November, but it was assumed we would see a traditional watch with innards from HP. Well, that's exactly what we are getting with the Titan JUXT Smartwatch, which takes a different approach towards the smart timepiece. It won't have a touchscreen or rotating bezel, but you will get a tiny OLED panel under the glass.
The Titan JUXT Smartwatch is a traditional watch with an OLED display embedded beneath the glass and behind the hands. That tiny panel will give you the scoop on incoming notifications and messages when synced through the app, but there are some other smart features as well. Step-tracking, global time, a calendar and alerts are all present along with a few other bells & whistles like haptic vibration.
As for the innards, we're not sure what makes the Titan JUXT Smartwatch tick, but those insides will be protected up to 50meters if you decide to take a dip. It also has a hypoallergenic stainless steel back cover, which is a nice touch for folks with sensitive skin. Throw in a natural leather strap, three piece stainless steel (or titanium) chassis and around 5 days of battery life and you've just met the Titan JUXT Smartwatch.
Now that we've seen the Titan JUXT Smartwatch… we're still not sure what to make of it. It's a good looking timepiece if you can get around the tiny display, but not nearly functional enough to be considered a true smartwatch. It's also not cheap as the base Stainless Steel model will go for Rs. 15,995 while the Titanium edition sells for Rs. 19,995 which equates to around $295. If the Titan JUXT Smartwatch seems like your cup of technological tea, you can put one on pre-order at the link below.