TappLock Brings Fingerprint Scanners to Old Fashioned Padlocks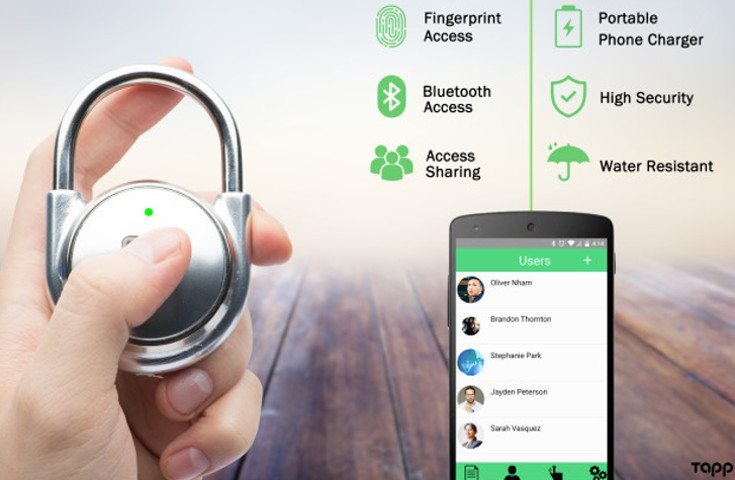 We've seen plenty of tech find its way into old-fashioned devices including door bells and thermostats. You can now add Padlocks to that list thanks to TappLock, and upcoming gadget that's bringing fingerprint scanning to the old padlock.
If you're reading this, there's a good chance you have used a padlock or combination lock in your lifetime. From school lockers to bowling alleys, airports or your storage building outside… they can be found almost anywhere. That said, losing the combination or key is not pleasant unless you just love cutting locks, which is where TappLock steps in.
Have a fingerprint? Well, you can use TappLock and there are two versions to choose from TappLock Lite is a bit smaller than the original but water-resistant with fingerprint access and Bluetooth connectivity. You'll need that if you want to share access to your lock, a feature that could certainly come in handy. The regular mode has all the above, but also acts as a portable phone charger because why not.
The TappLock will work in conjunction with an app, which unlocks (pun intended) plenty of other cool features. One of them is the aforementioned shared access function that allows you to pop the lock for anyone, from anywhere in the world. It can also store up to 200 fingerprints, and you can set specific times for the lock to be accessed. As for the battery, it has a replaceable unit that's said to last for 6-months. Throw in an anti-theft alarm and battery life notifications, and you've just met one of the smartest locks around.
TappLock is on Indiegogo seeking funding, and they have already crushed their original goal of $40,000 with 27 days still left on the clock at the time of this writing. Prices vary depending on what you're shooting for, but the regular version can be had for around $50 while the TappLock Lite is listed at $29 under the Early Bird tier.