Lenovo Yoga Tab 3 Pro launched in India for Rs. 39,990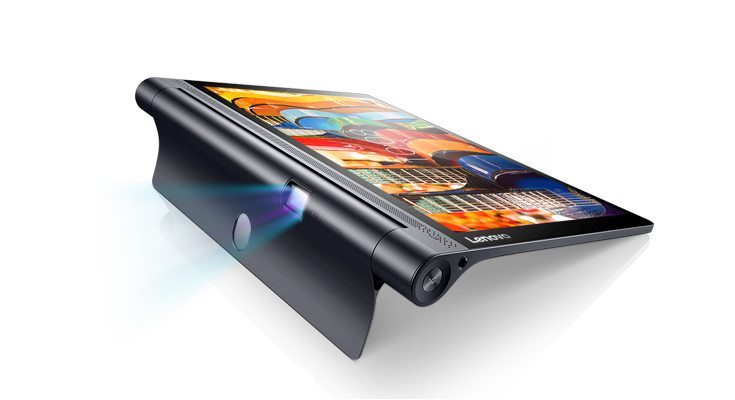 Looking for an interesting tablet in India? Well, we've got one for you today with the Lenovo Yoga Tab 3 Pro, which has just been launched for the region at Rs. 39,990.
Lenovo has produced some of the cooler slates we've seen released over the past couple of years, and their Yoga lineup has made plenty of fans along the way. There's a good reason for that. The tablets are unique in their design, and the specifications generally put them in the upper class of the tablet world. That's the case with the Lenovo Yoga Tab 3 Pro, and while it won't be cheap, it has plenty of pop to go along with some interesting features.
The Lenovo Yoga Tab 3 Pro is large at 10.1-inches and it has plenty of pixels with a resolution of 2,560 x 1,600mAh. It also has a kickstand or sorts and a built-in Pico projector with gesture controls and digital focus — something you don't see every day. It won't sport the popular Snapdragon under the hood, but it will have a speedy quad-core Intel Atom x5 chip clocked at 2.26GHz and backed by 2GB of RAM.
On the backside of the Lenovo Yoga Tab 3 Pro, you'll find a large 13MP sensor while the front-facing camera is listed at 5MP. The storage is listed at 16GB or 32GB, but it is expandable so you won't have to deal with the cloud. Dual-band Wi-Fi, LTE, Bluetooth, JBL speakers, and a large 10,200mAh battery round things out for the Lenovo Yoga Tab 3 Pro.
If you're interested in the Lenovo Yoga Tab 3 Pro, you won't have to wait long to pick one up as it will be available in the region later this month. Flipkart will be the exclusive seller of the slate in the region where it's priced at Rs. 39,990 which shakes out to around $588 bucks in the states.
via – Fonearea