Samsung Galaxy Tab S3 may have gotten Benchmarked with the Snapdragon 652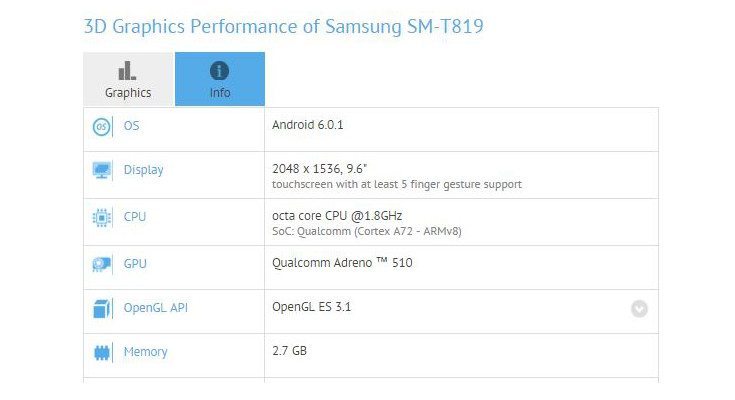 It's hard for Samsung to keep anything quiet for too long these days, but one device we haven't heard much about is the Samsung Galaxy Tab S3. Well, that may have changed as two slates believed to belong to the family have just gotten benchmarked.
The Galaxy Tab S2 was a popular tablet, but it is safe to say its time has officially passed. Those specs aren't so special anymore, and while Samsung has remained quiet about the possibility of a Samsung Galaxy Tab S3 release, but the Samsung SM-T719 and the Samsung SM-T819 may tell another story with their benchmark results.
An 8-inch tablet has passed through GFXBench with the model number SM-T719, and it's set to debut with a 2K display, a Snapdragon 652, and 3GB of RAM. The larger model is dubbed the SM-T819 and it has a 9.6-inch panel with the same 2,048 x 1,536 resolution. The Snapdragon 652 and 3GB of RAM are present as well while the storage capacity is listed at 32GB. Other features include an 8MP rear camera, 2MP front-facing camera, Bluetooth, Wi-Fi, and the usual array of sensors.
As it's going to be a bit of an off year for Samsung's flagship, it would be nice to see a couple of top-tier slates from the company when MWC rolls around. That said, there is no guarantee we'll see these slates in Barcelona, and they may not be called the Samsung Galaxy Tab S3 whenever they do arrive. Either way, we'll keep our ears to the ground and keep you in the loop as we learn more about Sammy's new slates.
via – Winfuture.de      source: GFXBench  1, 2