New Samsung Galaxy S7 leak sets a release date for March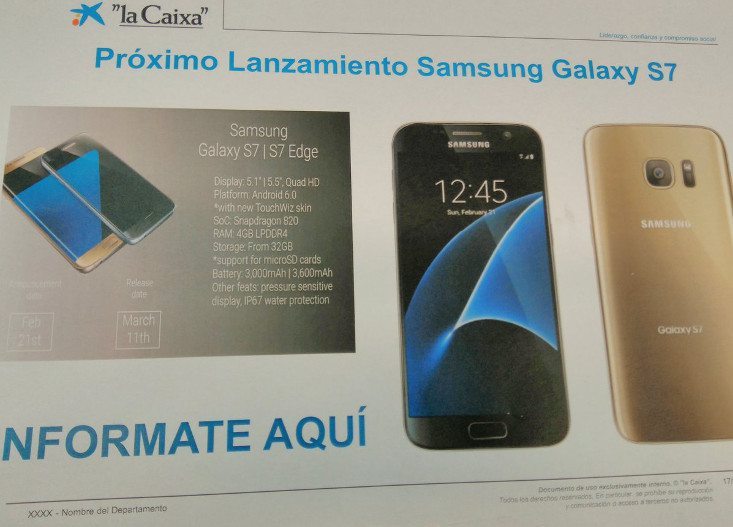 We can't go a day without seeing a new Samsung Galaxy S7 leak, and we've seen about a half-dozen since yesterday. Most involve the same information to a degree, so we are going to concentrate on one. A piece of promo material from Samsung has hit the net, and it has spilled the beans on the Samsung Galaxy S7 and Galaxy S7 Edge release date.
Leaks generally come in from unofficial sources, but we tend to see manufacturers slip up from time to time as well. Sometimes it's intentional, other times not so much. The latter is the case with the newest Samsung Galaxy S7 leak as someone snapped a photo of a brochure that gives us official confirmation on the specifications along with the Samsung Galaxy S7 release date.
According to the marketing material, the Samsung Galaxy S7 will sport a 5.1-inch QHD panel while its edged counterpart is listed with a 5.5-inch QHD display. Both will be powered by a Snapdragon 820 with 4GB of RAM and storage capacities of 32GB. The microSD card is definitely back, and other features will include a pressure sensitive display, IP67 certification and Android 6.0 with a new TouchWiz skin. The Samsung Galaxy S7 is listed with a 3,000mAh battery while the Samsung Galaxy S7 Edge has a 3,600mAh juice box.
If you reside in Spain, the Samsung Galaxy S7 and Samsung Galaxy S7 Edge release date will fall on March 11 with a price tag of €700/€800 depending on which model you choose. They will also come with a VR headset, but it remains to be seen if this is a special bundle or something that will come to anyone who purchases the Samsung Galaxy S7.
via – GSMarena      source: 1,  2