The ZTE Spro Plus is a high-powered Projector Tablet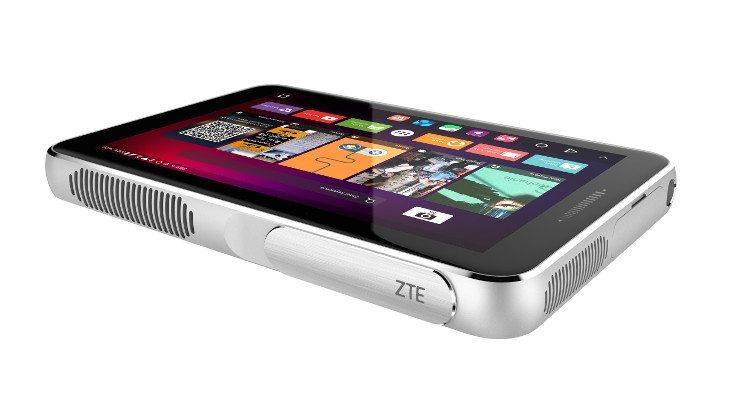 Over the past few years we've seen an increase in the number of mobile projectors, and there have even been a handful of mobile devices with built-in Pico projectors. The ZTE Spro Plus is the projector to rule them all as it's actually a top-tier slate with some very powerful specs.
It's safe to say there isn't a huge market for mobile tablets with projectors at the moment. That could change in short order with the ZTE Spro Plus release. It's not ZTE's first projector, but it is surely their finest and the type of device that could make you want something you never even considered before. That's due in part to the tablet itself, which can give most Android slates a run for their money.
The ZTE Spro Plus is a bit thick as you can see from the photos, but there's a good reason for that. It houses a 500-lumen projector that can throw 80-inch images on a wall, but if you don't feel like projecting, you can catch content on an 8.4-inch AMOLED panel. It's no ordinary slab of glass though as it has a resolution of 2,560 x 1,600 and also sports a Harmon Kadron sound setup with Dolby.
You'll obviously need some horsepower to handle all those pixels and projections, and thankfully ZTE has you covered. The ZTE Spro Plus will come with a Snapdragon 801 or Snapdragon 625 which pairs nicely with 3GB of RAM. The storage capacity is tiered as well at 32GB/128GB although either version is compatible. Connectivity options will include LTE, VoLTE, Wi-Fi, and Bluetooth 4.1. The ZTE Spro Plus will sip its power from a massive 12,100mAh battery and is listed as running Android 6.0.
As slick as the ZTE Spro Plus is, several key questions remain including its price The Wi-Fi model will obviously be cheaper than the 4G LTE edition, but we neither to be cheap given the specifications under the hood and the 500-lumen projector.