McDonalds releasing Happy Goggles VR headsets in Happy Meals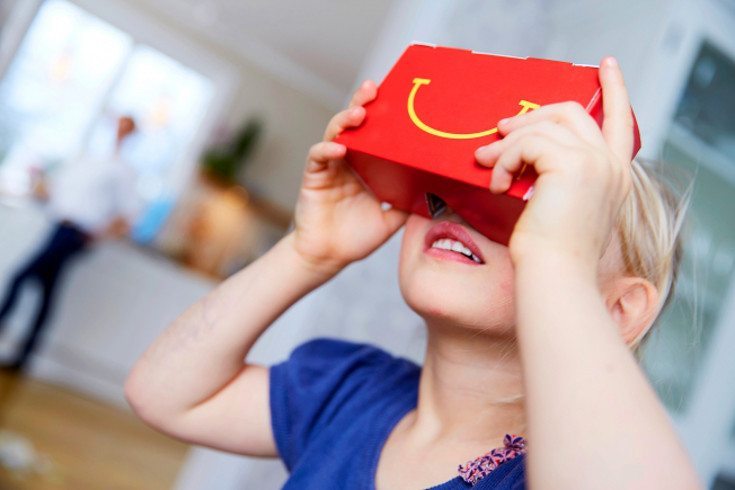 We've said it before, and we'll say it again… Virtual Reality is going to be a big deal. McDonalds is the latest company to agree, and a gadet dubbed Happy Goggles will be their first foray into the wild world of VR.
We are still a few years away from walking into a store and seeing VR kiosks setup, but that day is coming. All VR experiences aren't created equal, but you can be damned sure if you have a set of eyeballs, there is a viewer built for you. We've seen several kid-friendly VR headsets hit the streets, but McDonalds Virtual Reality setup is certainly one of the more unique ones.
Beginning in a few short days, you'll be able to hit up Mickey D's and snag a McDonalds VR headset. Granted, it's not a full-blown solution like the Gear VR, but their "Happy Goggles" will get the job done. As for the content, we're going to assume you can use it with any Cardboard apps on Google Play, but the company will also launch a new VR game to help kick things off.
Slope Stars will be the first McDonalds backed VR title, and it's a skiing sim that lets you hit the slopes and throw some powder as you weave in and out of an obstacle course by tilting your noggin. You can play it with or without the Happy Goggles, and one would assume there will be more apps and games from Mickey D's in the future if their little experiment proves successful.
If you are thinking about heading out to grab a set of Happy Goggles, you'll want to hit the brakes unless you live in one particular region. The company will debut the McDonald VR Happy Meals in Sweeden between March 5 — 12 and there will be 3,500 of the headsets produced. At this time, there's been no word on a Happy Goggles release for other regions, but you can bet the farm it more locales will see the VR kit later this year.