LG G4 price cut at T-Mobile before G5 release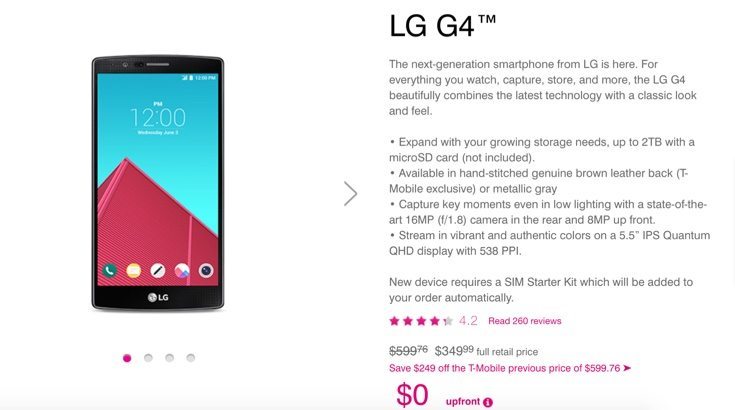 The LG G5 was recently officially introduced in a blaze of publicity and is scheduled for April availability. As a new flagship there's plenty of interest in the top-flight smartphone, but it's worth remembering that the LG G4 still has a great deal to offer. Now there's news of an LG G4 price cut at T-Mobile before the G5 release.
All of the big four carriers in the US have announced they will be selling the LG G5. T-Mobile has decided to clear some stocks before it arrives by discounting the current G4. It may not be the latest and greatest but you might want to consider this offer, as it's a very sweet deal.
When T-Mobile first got hold of the LG G4 it was priced just shy of $600 on the carrier. Now less than a year later the 2015 flagship has an unlocked price of just $349.99. That's a saving of almost $250 on the regular price at T-Mobile. If you don't want to lay out all the cash at once you can also purchase the G4 from the Magenta carrier with $0 upfront and monthly payments of $14.59 for 24 months.
It's available at these prices in the metallic gray option. As we said at the top, there's still plenty to admire about the LG G4. It has the benefit of a removable battery, internal storage expansion with microSD card, and also recently received the Android 6.0 Marshmallow update.
The phone also supports the carrier's advanced networks as it has band 12 LTE and VoLTE. Whatever way you look at it the current price at T-Mobile offers a good saving, and we'd be interested to know if you are now tempted to purchase the LG G4? Maybe you already have your sights firmly set on the LG G5 instead?
Source: T-Mobile
Via: Android Police