Lumia devices Windows 10 update schedule leaked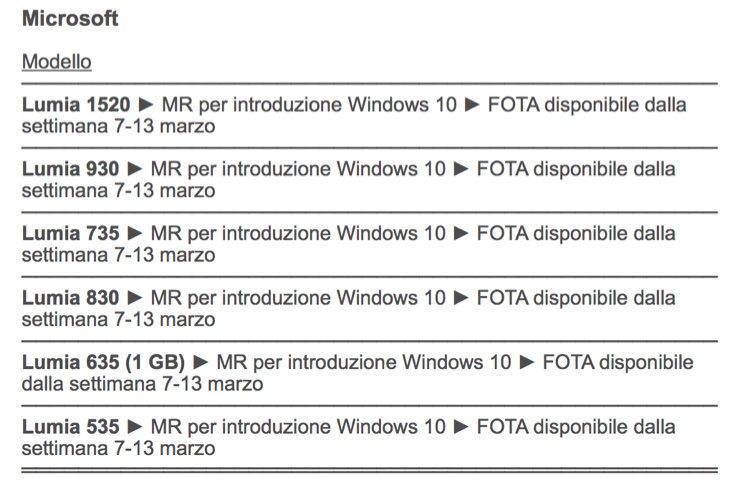 While some new devices have now launched running Windows 10 Mobile, there is almost more interest in when it will come to legacy smartphones. Many people have been waiting for the OTA (over-the-air) upgrade to arrive for their Lumia devices and now a Windows 10 update schedule has leaked from a European carrier.
There have been various lists of Lumia phones seemingly confirmed to receive the Windows 10 update, and back in October last year Microsoft said that the official upgrade would start being pushed out in December. However, there have been several false starts for the update to start rolling out, and in January there was news that the update had received another delay.
While Microsoft is still keeping quiet, some news has arrived from a Vodafone Italy Twitter account and support forum. A Vodafone representative posted a list of Lumia devices scheduled to receive the official OTA Windows 10 update. The same March 7 to March 13 timeframe was given for all of them.
The Lumia devices on the list were the Microsoft Lumia 535, Lumia 635, Lumia 735, Lumia 830, Lumia 930, and Lumia 1520. Therefore, if this is accurate the updates could start arriving within the next few days. It's worth noting that we previously heard that units of the Lumia 535 were already receiving the update in limited regions. However,we have not heard much else on this since.
Although this latest news specifically refers to these phones on Vodafone Italy, it's still good news for owners of these handsets elsewhere. Very often once we see updates roll out in one region, they very soon follow to other markets. Before you get too excited we'll issue a note of caution though. We must remember that this news has not stemmed from Microsoft itself, and sometimes carrier leaks might not be reliable.
Hopefully we'll soon start to hear reports of these Lumia devices starting to receive the Windows 10 Mobile update. Are you waiting for this update to roll out to your Microsoft Lumia phone? If you receive the upgrade we'd like to hear from you so do let us know.
Source: Vodafone Italy
Via: Windows Central