ICC World T20 2016 official app for Android and iOS
Cricket fans across the world are itching for the 2016 ICC World Twenty20 India tournament to begin. The tournament runs from March 8 to April 3 and if you want to be kept informed with all the latest news directly to your fingertips, a mobile app is one of the best ways. We have details of the free ICC World T20 2016 official app for Android and iOS devices.
Sixteen teams from across the world will be taking part in the T20 World Cup 2016, and the official ICC app will enable you to access live scores, video highlights, team and player info, and much more. The ICC World T20 India 2016 app is the number one app to go for to follow the action and all the latest developments. Both the iPhone and Android versions have been recently updated.
The official ICC app offers full tournament coverage and that includes the warm-ups, breaking news, photos, videos, match highlights and more. Features include the ICC Live Match Centre with ball-by-ball scores and commentary, fixtures, results, and stats including bowling averages, strike rate, highest score innings, run rates, wickets and more.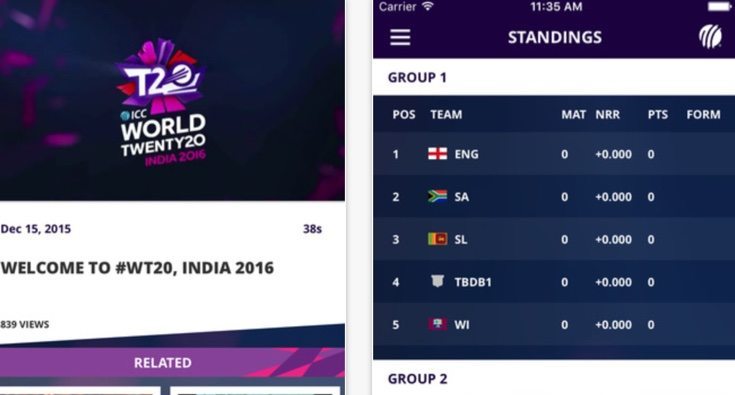 There's also a social hub for social media updates, video polls, and standings with official group positions, form, and points. If you want to particularly follow the team of your choice whether it's India, England, Australia, Pakistan, Bangladesh, or any of the others, you can also receive notifications about that team.
The free official ICC World Twenty20 2016 app for Android can be downloaded from Google Play. It was updated on March 3 and is compatible with devices running Android 4.0.3 or later. The iOS version of the ICC World T20 app is available from iTunes. This one is compatible with iPhone, iPod touch, and iPad running iOS 7.0 or later.
The app has very high user ratings, and as it's free it's certainly worth taking a look at. Will you use this official app for following the ICC World T20 2016 tournament?