iOS 9.3 beta 5 review of new features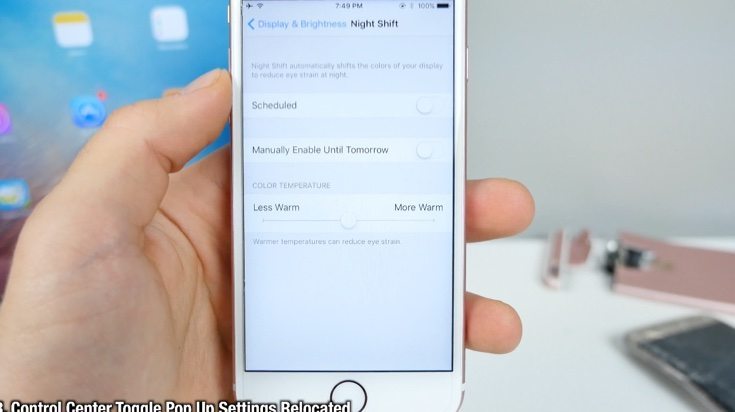 Last week Apple seeded iOS 9.3 beta 5 to developers and also made it available to public beta users. The public release of iOS 9.3 is expected to happen later this month, possibly on March 21. In the meantime we can check out an iOS 9.3 beta 5 review of new features to get an idea of what's on the way.
In our previous report on iOS 9.3 beta 5 we discussed some of the improvements and changes that it offers for iPhone and iPad users. iOS 9.3 will bring a new Night Shift mode, upgrades to the Health and Activity apps, multi-user support for iPads used in schools, and much more. It also includes additional 3D Touch support for those with the iPhone 6S and iPhone 6S Plus.
It's one thing to read about the changes with beta 5, but it's even better to be able to see the new features and improvements for yourself. For this purpose we've embedded a video below this article of an iOS 9.3 beta 5 review that neatly demonstrates the changes in a 5-minute look at the testing stage. The video also compares beta 5 to the previous beta performance-wise.
It starts by noting the return of full navigational functionality for the Apple Pencil for iPad Pro users, that had been removed in earlier betas. It goes on to show some of the new settings and changes for the Night Shift mode. Next it discusses those who use an iPhone as a company phone, whether or not it's being monitored, and company controls. Another thing mentioned is a fix for third party notifications for the Apple Watch.
A Geekbench test is also conducted and shows the single-core scores and multi-core scores of iOS 9.3 beta 5 compared to the same for iOS 9.3 beta 4. Both scores are very slightly lower on beta 5 as for the previous beta. As an extra piece of interest the scores are also compared with those of the brand new Samsung Galaxy S7 Edge, and you may be surprised by how well the iPhone is holding up.
At the end of the video the reviewer points out that although there are not usually more than 5 betas, we could yet see an iOS 9.3 beta 6 going by the amount of new features. Are you keenly waiting for the iOS 9.3 public release? What are your thoughts on the additions we've seen so far?
Source: EverythingApplePro (YouTube)
https://www.youtube.com/watch?v=4Z8c4Bi-PCU://