T-Mobile set to launch Buy One, Get One deal on the Samsung Galaxy S7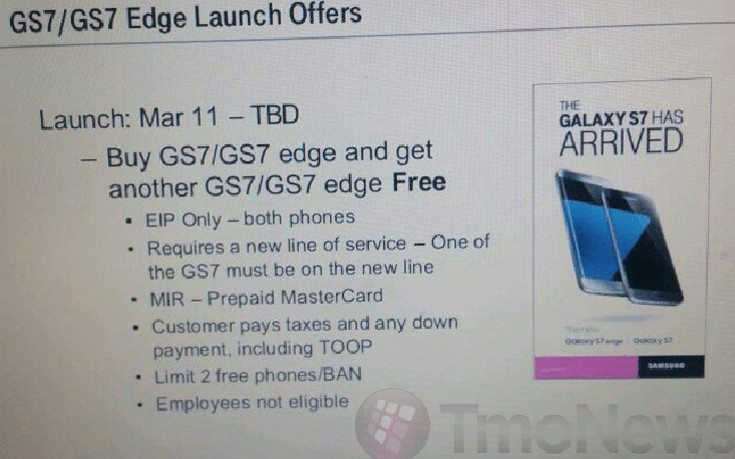 Are you a fan of BOGO deals? If so, T-Mobile may have a juicy one coming your way soon as a new leak has revealed plans for a Buy One, Get One promotion on the Samsung Galaxy S7 and the Galaxy S7 Edge.
In the world of sales, BOGO has come to mean Buy One, Get One. It's a popular sales tactic seen often when companies need to push old stock, but rarely do you see one with a new release. If a new leak pans out, T-Mobile is going to help Samsung move some smartphones very soon with a new BOGO deal on the Samsung Galaxy S7 and the S7 Edge.
Leaks can come from the unlikeliest of places, and the new one for Magenta looks to be of the official variety. The image shows a buy one, get one promotion from T-Mobile which is set to launch on March 11. There are a few small hoops to jump through to take advantage of their offer, but nothing unusual as you'll need a new line, have to pay taxes, etc… If you work at T-Mobile you are excluded from the offer, but it's going to be open to everyone else.
We've often joked about how Samsung took it easy this year with the Samsung Galaxy S7 launch. While it's true, it is still a fine flagship so it's a bit surprised to see a BOGO deal so early on. That said, the carrier wars are always in full swing, and T-Mobile may gain a lot of ground with their new promotion when it launches.
via – TMOnews
Would you jump to Magenta for a BOGO deal on the Samsung Galaxy S7 or the S7 Edge?