Moly W5 phone releases next month with Windows 10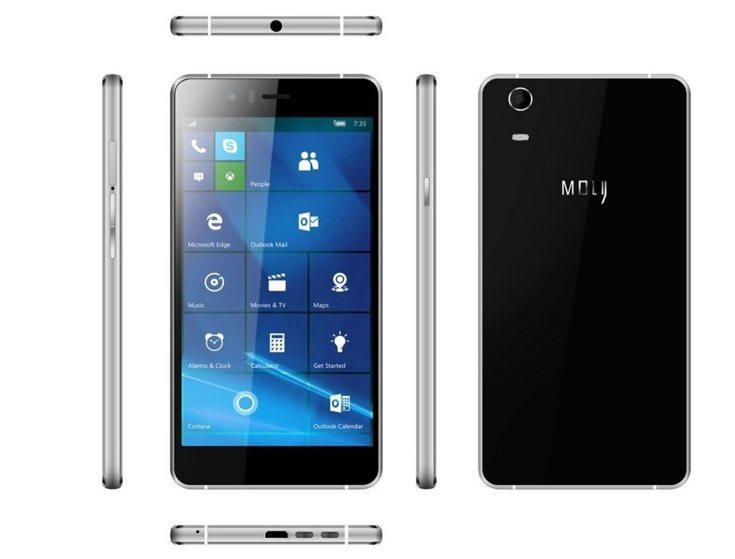 As well as covering smartphones from all the big brands, we also like to dig around for devices from lesser-known makers. Today we have news of the Moly W5 phone that releases next month running Windows 10 Mobile. This new smartphone has just launched and we have the specs and more coming right up.
The Moly W5 is a fairly low-end phone that's powered by a 1.1GHz Snapdragon 210 processor and has a 5-inch LTPS display with HD resolution of 1280 x 720. It has 1GB of RAM and 8GB of internal storage (expandable via microSD to 128GB). A non-removable 2250 mAh battery keeps the juice flowing, and the phone also has 4G LTE connectivity, WiFi 802.11 b/g/n, and Bluetooth 4.0.Further specs include an 8-megapixel rear camera with autofocus and 1080p video capture, and 2-megapixel front-facing snapper.
The phone has a metal frame and is nicely slim at 7.33mm, while the display is protected by Corning Gorilla Glass. As we said at the top, the Moly W5 runs the Windows 10 Mobile operating system. It's set to release from April 13 with an unlocked price of $199 on Amazon and it ships from China. It's compatible with GSM carriers such as AT&T and T-Mobile but not with CDMA carriers such as Sprint and Verizon.
Readers might also be interested in another Moly smartphone that's available. The Moly X1 is higher-end Windows 10 smartphone from the company with a higher price of $299. It has a 1.2GHz Snapdragon 410 processor, and a larger 5.5-inch display with Full HD resolution of 1920 x 1080. This one has 2GB of RAM,16GB of internal storage (expandable), and a 2600 mAh battery. It's equipped with a 13-megapixel rear camera and 5-megapixel front-facing shooter.
You can see more about the Moly X1 at the Amazon source below along with the Moly W5. What are your first thoughts on the new Moly W5 Windows 10 smartphone?
Source: Amazon
Via: Windows Central