iPhone SE vs iPhone 6S, 6 and 5S bootup speed test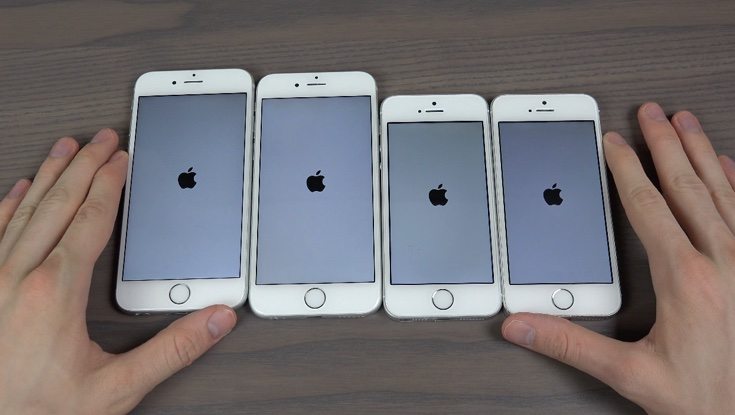 The Apple iPhone SE has recently released to regions worldwide and brings back the smaller format that some iPhone fans missed. Although it looks like the iPhone 5S, a lot has been made about the fact that some of the SE's internals are the same as the latest current iPhone, the 6S. Therefore we thought it might be interesting to share a short iPhone SE vs iPhone 6S, 6 and 5S bootup speed test.
The iPhone SE shares the same 1.84GHz Apple A9 dual-core processor and PowerVR GT7600 graphics as the iPhone 6S. They also both have 2GB of RAM. Meanwhile the iPhone 5S from 2013 has a 1.3GHz Apple A7 dual-core processor, PowerVR G6430 graphics, and 1GB of RAM. The iPhone 6 from 2014 is equipped with a 1.4GHz Apple A8 dual-core processor, PowerVR GX6450 graphics, and 1GB of RAM.
The newest of them, the iPhone SE, released running iOS 9.3, and this update is also compatible with all of the other iPhones mentioned above. It's often interesting to see how different models of iPhones compare in different aspects, and the video below offers a brief diversion in a busy day. You'll see the iPhone SE vs iPhone 6S, 6 and 5S lined up alongside each other in a bootup speed test. All are simultaneously powered up to see which one is up-and-running first.
We're not going to ruin the suspense by saying which phone comes first in the bootup test, but we will say that there is only a very slight difference in the times of the fastest two. Another thing that's evident is that the iPhone SE might look the same as the iPhone 5S but is proved to be much faster at starting up. The reviewer goes on to show that all of the iPhones in the video are running the latest iOS version (iOS 9.3.1) for the sake of fairness.
It will certainly be interesting to see a repeat of this bootup test later in the year with the iPhone 7 release. Have you already purchased the iPhone SE? If so what are your thoughts on the speed performance of the latest iPhone so far?
Source: Adrianisen (YouTube)
https://www.youtube.com/watch?v=BqP9HOaNPrU://