Huawei P9 Lite price appears online ahead of launch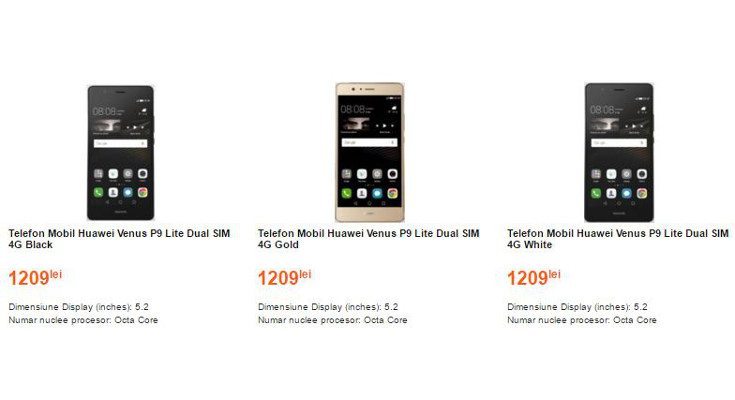 The Huawei P9 Lite was the subject of a large leak last month, which let us in on the specifications well ahead of launch. Today the Huawei P9 Lite price is the topic of debate, as an online retailer has listed the handset before primetime.
It's safe to say plenty of consumers are excited about the Huawei P9 Lite, and it looks to be a slick handset with plenty of pop. The same can be said for the variants, and the Huawei P9 Lite has been of particular interest as it's believed to be quite a bit cheaper than the regular model. While it isn't official, a European retailer has listed the Huawei P9 Lite price at around $300 bucks.
A retailer from Romania called Cel.ro has listed the Huawei P9 Lite for sale on their website for 1208 lei, which shakes out to around $300. The handset is called the Huawei Venus P9 Lite Dual SIM, and is currently available in three colors with White, Gold, and Black. According to their listing, the Huawei P9 Lite will come with a 5.2-inch HD panel, a Kirin 650, 2GB of RAM, and 16GB of storage. Other features include Dual-SIM connectivity, 4G LTE, Android 6.0, and a 13MP/5MP camera combo.
For now, you'll want to take the Huawei P9 Lite price listing with a dose of salt. While it may be legit, that price could vary from region to region, so don't lock it in just yet. Hopefully, we'll be able to shed some official light on the subject soon when Huawei officially launches the handset.
Would you like to see the Huawei P9 Lite come to your neck of the woods?
via – GSMarena,  Mobilissimo.ro     source: Cel.ro