Samsung Galaxy C5 (SM-C5000) key specs from benchmark spot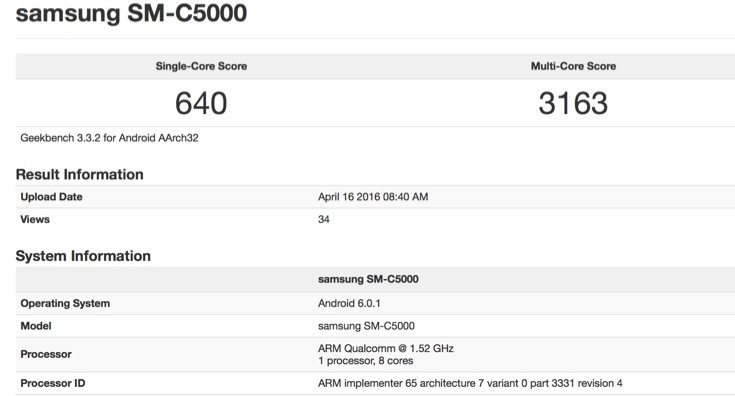 A few weeks ago there were some initial rumors about a new Samsung Galaxy C series and suggestions that the first in the line would be the Galaxy C5 and Galaxy C7. Now we have some new details about the devices including some Samsung Galaxy C5 key specs from a benchmark appearance.
Early speculation suggested that the upcoming Galaxy C series would be positioned a little below the existing Galaxy A series. Although the Galaxy C5 and Galaxy C7 names have not been confirmed yet, the first was thought to be already in development as model number SM-C5000. An import listing for the phone showed it to have a 5.2-inch display but little else was known about the device other than it was in the testing stages.
The Samsung Galaxy C5 (SM-C5000) has now turned up in a benchmark appearance, and the Geekbench filing gives us some of the specifications. It's shown as having a 1.5GHz Snapdragon 617 octa-core processor, Adreno 405 graphics, and 4GB of RAM. Other specs are thought to be along the lines of the 2016 Galaxy A lineup although of course this is not confirmed yet. The Geekbench database also reveals that the SM-C5000 is running the Android 6.0.1 Marshmallow operating system.
The phone attained a single-core score of 640 and multi-core score of 3163 in the benchmark test. Further news on the new Galaxy C series of smartphones is that they will have slim metal builds. The first Galaxy A handsets also featured metal bodies, with the newer models moving on to metal and glass. Therefore it's certainly plausible that the Galaxy C phones will fit into the earlier slot.
It's thought that the C series will launch initially for China in May and that availability for further markets will follow. The SM-C7000 (Galaxy C7) is also thought to be in the pipeline and will have some improved specs over the SM-C5000 (Samsung Galaxy C5). We're likely to hear many more leaks on the new Galaxy C series over the coming weeks and we'll keep you in the loop. What are your thoughts on this upcoming new Samsung phone series?
Source: Geekbench
Via: SamMobile