Huawei P9 vs Samsung Galaxy S7 Edge speeds compared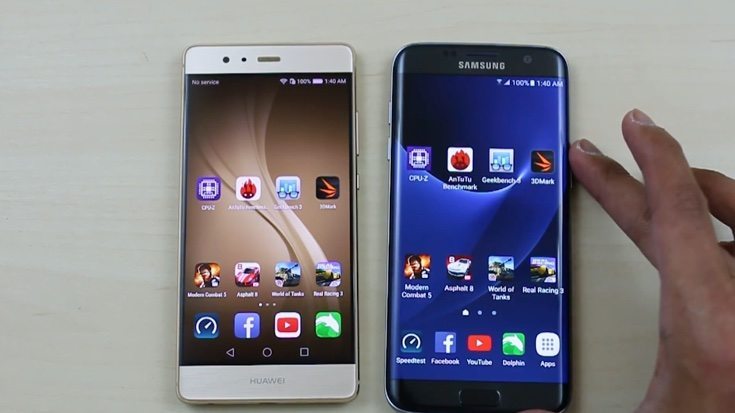 The Huawei P9 was recently unveiled, and as a top-flight Android smartphone one of its major competitors will be Samsung's flagship Galaxy S7 Edge. It can be interesting to stack up high-end handsets against each other for particular aspects, and today we're looking at Huawei P9 vs Samsung Galaxy S7 Edge speeds compared.
We'll start by outlining key specifications as far as speeds are concerned. The Samsung Galaxy S7 Edge is powered by either a Snapdragon 820 quad-core processor with Adreno 530 graphics or an Exynos 8890 octa-core processor with Mali-T880 MP12 graphics (models vary by region). It has 4GB of RAM and runs the Android 6.0 Marshmallow operating system with Samsung's TouchWiz UI.
Flip to the new Huawei P9 smartphone and this is equipped with a HiSilicon Kirin 955 processor with Mali-T880 MP4 graphics. It has variants with either 3GB or 4GB of RAM, and runs Android 6.0 Marshmallow with Huawei's Emotion UI 4.1. For the purposes of comparing speeds we've embedded a Huawei P9 vs Samsung Galaxy S7 Edge speed testing video below this article for your viewing convenience.
The video shows a variety of different testing comparing different speed aspects of the two phones. It's worth noting that the Huawei P9 used here is for the 4GB RAM version while the S7 Edge is the model with the Exynos 8890 processor. In the video the handsets are shown alongside each other and put through their paces regarding the speed of opening apps, Internet browsing, benchmarks, multitasking, and bootup speeds.
Interestingly during the testing the handsets are also checked for overheating, which can affect performance and benchmark results. A counter displayed next to each device clocks up the wins as the testing progress before the overall winner is declared. We're not going to give the game away here, as you'll see it for yourself when you view the video below. Why not try to predict the winner and see if you get it right.
If you enjoyed this testing you might also be interested in a recent Galaxy S7 /S7 Edge vs Huawei P9 camera performance comparison. Did you pick the overall winner in this speed testing of the Huawei P9 vs Samsung Galaxy S7 Edge?
Source: L BS (YouTube)
https://www.youtube.com/watch?v=bhylTQKRjCc://