Samsung Galaxy C7 specifications reinforced by benchmark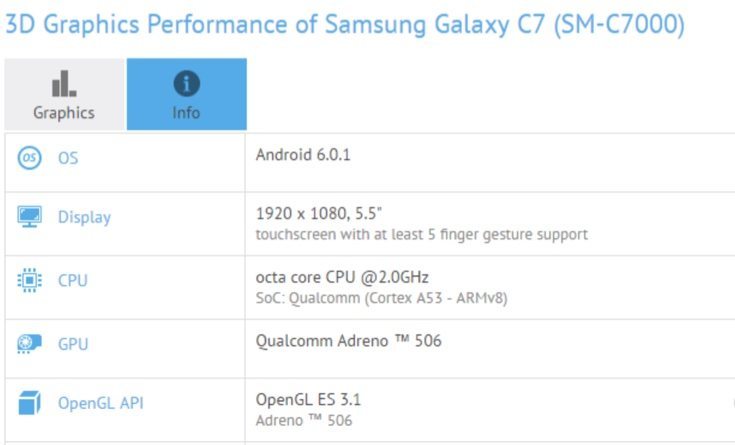 Anyone who follows Samsung mobile news will have heard of the upcoming Galaxy C series. There have already been leaks about both a Galaxy C5 and also a C7 including some specs from benchmark filings. Now the Samsung Galaxy C7 specifications have been reinforced by a further benchmark appearance.
The new Galaxy C series is expected to be positioned slightly below the Galaxy A series of smartphones. Rumors suggest the Galaxy C phones will have slim metal builds, and it's thought they could launch in China as early as next month. There's also the possibility of availability for further markets to follow, but leaks differ in this regard.
Recently we reported on some unofficial specs of the Samsung Galaxy C5 (SM-C5000) after the phone appeared in Geekbench documentation. Just a few days later some Samsung Galaxy C7 specifications also appeared, this time courtesy of an AnTuTu benchmark filing. This leak indicated that the Galaxy Cu7 would have slightly upgraded specs over the C5, just as we would have expected.
Now Samsung Galaxy C7 specifications have shown up again, this time on GFXBench. The majority of specs revealed in the filing for model number SM-C7000 agree with those from the AnTuTu listing. Therefore the Galaxy C7 is shown to have a 2GHz Snapdragon 625 processor, Adreno 506 graphics, 4GB of RAM, and 32GB of internal storage. Other specs disclosed are a 16-megapixel rear camera and 8-megapixel front-facing shooter, and the phone was running the Android 6.0.1 Marshmallow OS in testing.
In the previous AnTuTu spot the size of the display for the Galaxy C7 was not given, just that it had Full HD resolution of 1920 x 1080. However, this latest benchmark sighting reveals a display sizes of 5.5-inches, pretty much what we expected seeing as the Galaxy C5 has a 5.2-inch display. Something worth noting here is that a previous SM-C7000 sighting on an import/export site gave the C7 display size as 5.7-inches. Therefore for now that's still open to question.
Are you interested in this upcoming new series of Galaxy C smartphones? Based on what we've heard so far what do you think of the Samsung Galaxy C7 specifications?
Sources: WinFuture.de and Zauba
Via: GSMArena