Keyever Windows 10 phone with keyboard in development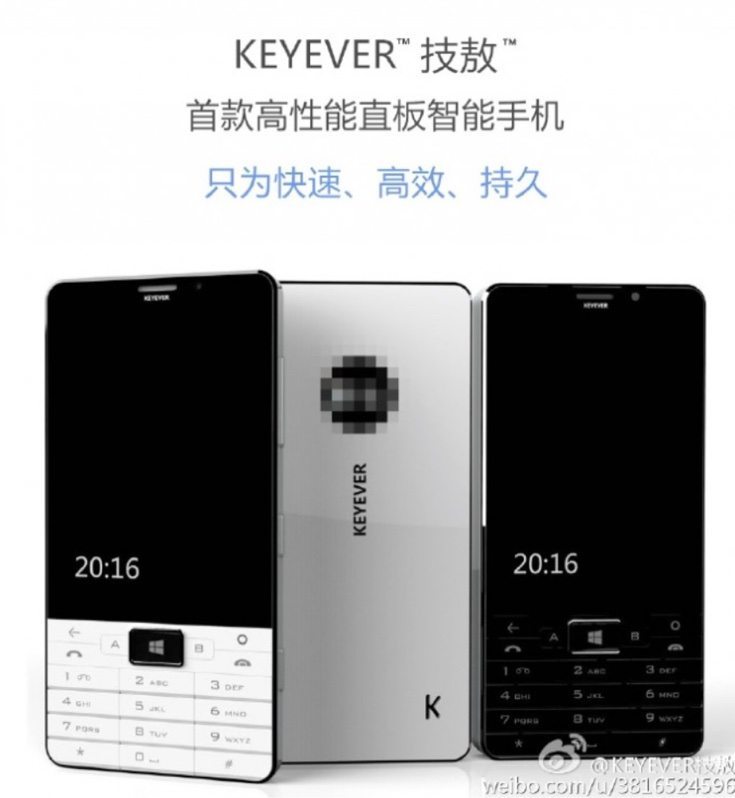 This next item is merely a snippet of news at the moment as it regards a smartphone currently in the pipeline. A Keyever Windows 10 phone with keyboard is in development, and if you haven't heard of the maker before we'll admit that we hadn't either. Keyever AO is a Chinese company and the new handset is heading to a launch later in the year.
The upcoming Keyever Windows 10 Mobile phone will have a bar form factor with physical keyboard, and as such there might be a fair amount of interest in this device. The full details of the phone have not been finalized yet, with Keyever said to be still undecided about some aspects. Renders show a numeric keypad for the phone but the company has yet to decide about a full QWERTY offering.
Another thing that has not been finalized yet is the rear camera arrangement, and you'll notice that this area on the images has been pixelated because of this. Specs are said to include a hexa-core processor, and a 3.5-inch AMOLED display with 960 x 540 resolution that includes touch support. Another specification that has been given is a 3000 mAh battery.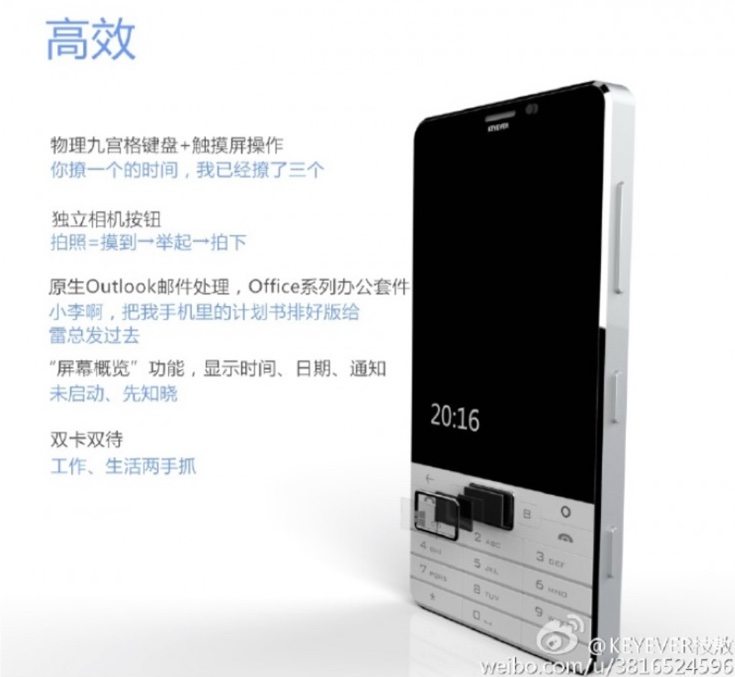 Although the price is unconfirmed at this stage it looks as though it will be an affordable smartphone. The Keyever Windows 10 phone is said to have a planned price of around CNY 1,000. That works out at around $154, £106, €136, or Rs. 10,230. It's possible that the phone will release around Q3 this year. We've included some of the images of the renders here and you can see more at the source below.
We'll be following developments on this upcoming smartphone with interest and will bring further news as we hear it. Are you interested in hearing more about this Keyever Windows 10 smartphone?
Sources: Keyever (Weibo) and @hykenblue (Twitter)
Via: GSMArena