New Nexus 6P version in mysterious tantalizer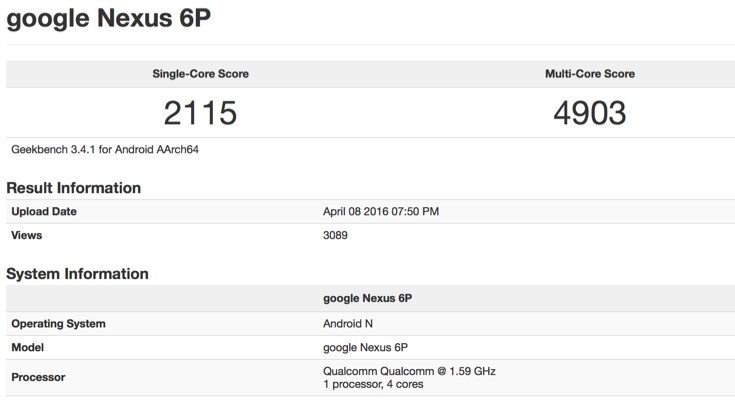 Many Android device fans will be admirers of the Google Nexus line and know all about the Huawei Nexus 6P that released last year. The phablet offered an alternative to the smaller LG Nexus 5X that also arrived, but it appears that we're not done quite yet as far as the larger offering is concerned. There's news of a new Nexus 6P version in a mysterious tantalizer, following a phone that has appeared in a benchmark filing.
It's all rather intriguing as a new Geekbench listing for a device named as the Google Nexus 6P has emerged. While that might not sound too interesting at first, the point of interest here is that it's listed with some different specs to the existing Nexus 6P. The Geekbench filing gives specifications that include a 1.59GHz Snapdragon 820 quad-core processor, Adreno 530 graphics and 4GB of RAM. In testing it was running the next major Android version, Android N (Android 7.0).
We'll remind you that the current Nexus 6P has a Snapdragon 810 chipset with Adreno 430 graphics and 3GB of RAM. It released running the latest version of Android at that time, Android 6.0 Marshmallow. It has been rumored for some time that HTC will be producing new Nexus smartphones for 2016, and yesterday we reported on leaks about an HTC Nexus M1 and HTC Nexus S1. However, this latest news implies that these may not be the only new Nexus phones that we see release this year.
Whether this latest Nexus 6P in benchmarking turns out to be a full successor or simply a refreshed version is still in question. Nevertheless this certainly gives us food for thought and will be something to follow over the coming months. There's another slight mystery going on, as the filing shows the motherboard as 'marlin,' the same as the codename that has been linked to one of the upcoming HTC Nexus phones.
At this point in the proceedings we cannot back up any of the rumors surrounding the new Nexus 2016 offerings. You can bet we'll keep you informed when we hear about further developments though, so do check back with us from time to time. Are you intrigued by the apparent new Nexus 6P version?
Source: Geekbench
Via: Phone Arena