Leicester City FC fan app for Android and iOS in demand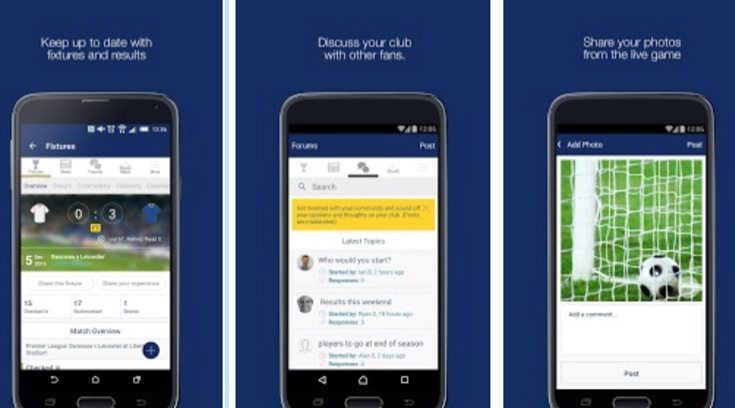 At Phones Review we're also big football fans and have been following the soaring success of Leicester City and Claudio Ranieri's men in the Premier League. The club have just been crowned champions leading to mass celebrations and making headlines around the world. That's sure to mean that the free Leicester City FC fan app for Android and iOS devices will be in big demand.
Even fans of other clubs have been impressed by the meteoric rise of Leicester City this season. No matter which club you support, you'd have to have a heart of stone not to have been carried along on the wave of euphoria surrounding Leicester's success, or how about the enjoyment of seeing the Jamie Vardy lookalike being hauled into the team bus. The Fan App for Leicester City FC is a great resource for diehard supporters of the Foxes and is also likely to be popular for new fans.
This app will keep you informed with the latest news about Leicester City FC as well as giving you details on fixtures and results. One of the highlights of the app is being able to check in to matches and events so that you can share your comments and photos with other fans of the club. This is done through a live event stream on match days. What better way to optimize your enjoyment of Leicester City vs Everton on Saturday, when captain Wes Morgan will finally be presented with the Premier League trophy.
If you're one of the lucky ones that will be at the match it's a great opportunity to let other Leicester City fans in on the action from a different perspective. If you can't be there you can at least optimise your enjoyment of the day by following the live stream and updates. The Fan App for Leicester City FC for Android devices is available from Google Play. It's compatible with devices running Android 4.1 or later. Alternatively the iOS version of the app can be downloaded from iTunes. This one is compatible with iPhone, iPod touch, and iPad running iOS 8.0 or later.
The app is highly rated by users so it's definitely worth checking out, especially as it's free. If you decide to download the Fan App for Leicester City FC we'd be interested to hear from you. What do you think of this app and would you recommend it to other fans?