Samsung Galaxy A4 prospect as SM-A430 is sighted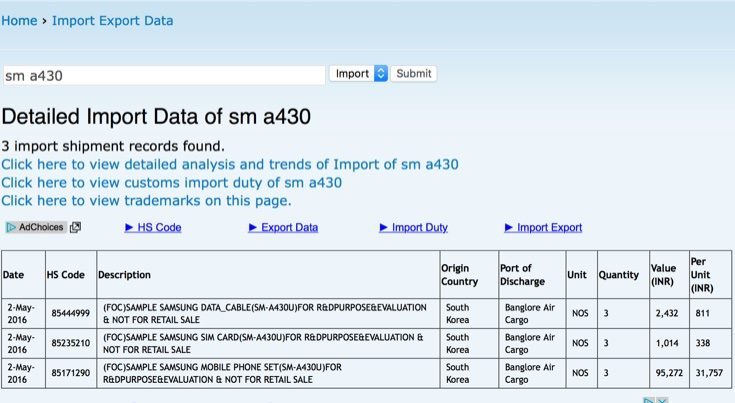 We often see first signs of upcoming Samsung devices when they show up on Zauba, an Indian import/export database. That has happened again today with a Samsung Galaxy A4 prospect, as the SM-A430 has been sighted. While the actual name of the device is not confirmed yet, usual Samsung naming patterns imply this will be the Galaxy A4.
The entry on Zauba is for a Samsung mobile phone with model number SM-A430. Sometimes these entries give us the odd specification such as the display size, but sadly the listing does not give us any details about specs this time around. The SM-A430 has been imported in limited numbers for the usual R&D purposes and is not for retail sale.
The listing does give us another point of interest though, as going by the value per unit it looks as though it could be a near high-end device. The value per unit is listed as Rs. 31,757. This value is unlikely to be the final retail price, but as an idea it's equivalent to around $476 or £330. As we've already pointed out, it's thought the Samsung SM-A430 is likely to be the Samsung Galaxy A4. However, it's worth noting that Samsung has not trademarked this name yet. You might want to bear that in mind while we wait for further news.
Hopefully now the device has turned up in this import spot, it won't be too much longer until we see further leaks that include the specs. Are you going to be following further developments about this prospective Samsung Galaxy A4 or SM-A430? Why not let us know by dropping us a comment.