ZUK R1 smartphone specs from benchmark appearance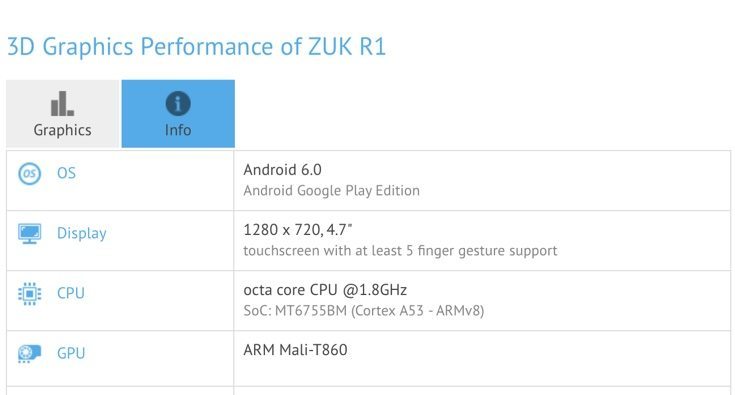 We often see details of new smartphones and tablets when they appear in benchmark filings or are approved for certification. The first of these has now led us to an upcoming ZUK smartphone, the R1. Read on for details of ZUK R1 smartphone specs from a benchmark appearance. Going by previous ZUK prices we expect this to be a budget handset.
Some may have heard of the ZUK Z1, which only yesterday was also launched for India as the Lenovo ZUK Z1. The company has also recently unveiled the ZUK Z2 Pro in China, although there's no news yet on when an international version will arrive. Now we know another new ZUK smartphone is on the way, as revealed by a GFXBench filing.
The listing shows some of the ZUK R1 specifications, such as a MediaTek MT6755 Helio P10 64-bit octa-core processor and ARM Mali-T860 graphics. The new mid-range ZUK smartphone has a 4.7-inch display with HD resolution of 1280 x 720, and further revelations include 3GB of RAM, with 32GB of internal storage. It sports a 13-megapixel main camera at the rear, and at the front there's an 8-megapixel camera.
Android 6.0 Marshmallow is the OS version that's listed, and it's likely that it will employ ZUK's own ZUI user interface for China and perhaps the Cyanogen OS for a global variant. However, beneath the OS entry on the filing it also says, "Android Google Play Edition." That's something we don't usually see on GFXBench listings, and might indicate that it offers a stock Android experience. Interestingly we saw a similar inclusion with a new 18.4-inch Lenovo tablet that was also listed at GFXBench recently.
There are no more details on the ZUK R1 just yet, but when devices start appearing for benchmark testing we often hear something official soon after. Do check back with us from time to time, and in the meantime why not drop us a line and give us your thoughts on the ZUK R1?
Source: GFXBench
Via: Phone Radar