Lenovo gearing up to launch Huge Lenovo PB2-690N Android Tablet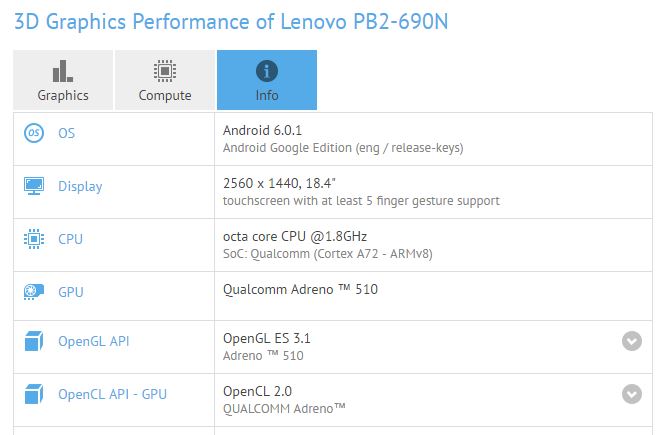 It took a while for "large" handsets to become mainstream as there was a time when anything above 5-inches was considered extreme. We're not sure the same is going to happen in the tablet world, but we have another gigantic slate to cover today with the Lenovo PB2-690N.
We're no stranger to slates that take up half your desktop as we've seen a half-dozen or more that break the 12 to 14-inch barrier. The Samsung Galaxy View was one of the latest, but as large as it was, it was highly underwhelming when it comes to horsepower. Thankfully, that's not going to be the case at all with the Lenovo PB2-690N, as it's going to have flagship specs inside of its humungous chassis.
A tablet dubbed the Lenovo PB2-690N has rolled through ye old benchmark listings and it's quite large. That said, it has 18.4-inches of pure QHD goodness, and the chip pushing those pixels around is listed as a 1.8GHz Qualcomm octa-core processor. Other features to note include 4GB of RAM, 64GB of internal storage, and an 8MP/1MP camera combo. You won't get Windows this time around either as the Lenovo PB2-690N will run Android 6.0.
It goes without saying that the Lenovo PB2-690N is one to watch if you are in the market for a massive tablet, but want one that won't feel outdated in a couple of years. While we would have liked to see a more powerful chip under the hood, it will have plenty of pop and we're quite curious to see how much the price will be when it breaks cover and becomes official.
via – Android Headlines       source: GFXBench