LG Action CAMLTE announced with 4G connectivity for Live Streaming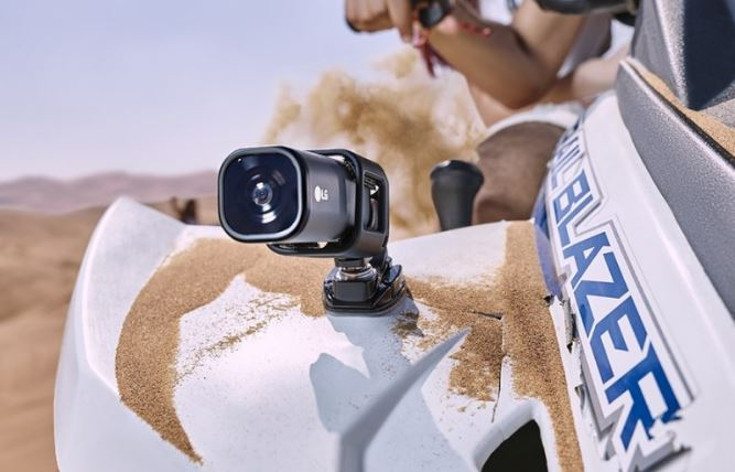 LG made news with the LG G5 release as it's the first true modular phone to hit the streets. They also announced several new accessories, and you can add one more to that list with the aptly named LG Action CAMLTE.
If you're an extreme sports aficionado or just enjoy streaming the world around you, the LG Action CAMLTE is a new mobile accessory you may want to consider. It's billed as a "Lifestyle Cam" for folks on the go, but also doubles as a security camera or dash cam if you so choose. We would be remiss if we didn't mention the IP67 tag as well, which ensures it won't break when you're out in the sand, surf or snow.
If you keep up with the mobile trends, you already know Action Cams are a dime a dozen. That said, the LG Action CAMLTE will have one thing in its favor as it has cellular connectivity through 3G and 4G LTE along with Bluetooth 4.1 and Wi-Fi. It also has a USB Type-C USB 2.0 port and sports a 1,400mAh battery. As for the sensor, it is a 1/2.3-inch 12.3MP snapper that can handle UHD video at 30fps, FHD at 60fps or 720p at 120 frames per second. Other features include 2GB of RAM, a microSD card slot, and 4GB of storage. The LG Action CAMLTE is light at 95 grams and measures 32mm x 32mm x 77.9mm.
The LG Action CAMLTE looks to be a slick little gadget, and something we could see a lot of folks picking up if the price is right. Unfortunately, LG didn't tip their hand to that or the LG Action CAMLTE release date, so that remains to be seen and we'll keep you in the loop as more details become available.
Would you be interested in the LG Action CAMLTE if the price is right?