Cricket gets the ZTE Grand X Max 2 for $199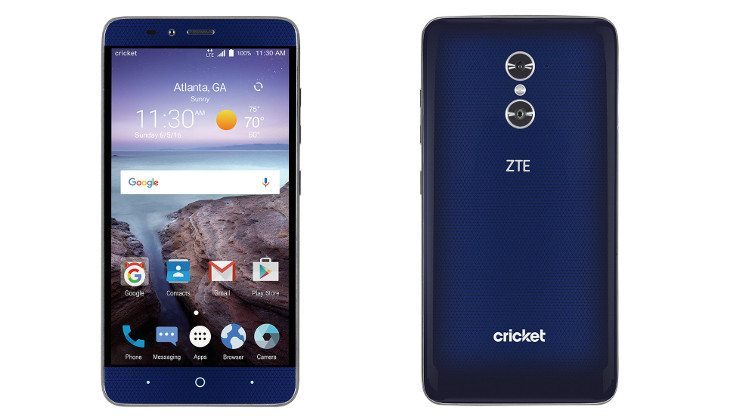 Cricket was worked hard to improve their smartphone arsenal over the years, and offering devices from companies like ZTE is one way to pull new consumers in. The ZTE Grand X Max 2 is the latest handset to arrive at the carrier, and it can be yours if you're willing to shell out $199.
The mid-range market is getting tricky these days, as the line between budget-friend, mid-range and flagship continues to blur. ZTE has long been known for offering up handsets with solid specs at affordable prices, and the ZTE Grand X Max 2 certainly fits the bill. While $199 is a bit more than you might expect to pay through the carrier, the Max 2 has a few interesting features.
As the name implies, the ZTE Grand X Max 2 is a handset that's larger than most, including the Note range. It has a 6-inch display with a resolution of 1,920 x 1,080 while the power comes from an octa-core chip clocked at 1.5GHz and 2GB of RAM. That's not too shabby, and while you'll only get 16GB of storage out of the box, there is a microSD card slot.
While the ZTE Grand X Max 2 has plenty of pop, it also has a unique camera setup on its backside. The phone sports a 13MP sensor and a 2MP sensor on its back, which makes it one of a handful of devices with a Dual-Camera setup. The front-facing camera is listed at 5MP, and the usual array of connectivity options are present as well with Bluetooth, Wi-Fi, and 4G LTE. The ZTE Grand X Max 2 will draw its power from a 3,400mAh battery with Quick Charge 2.0 and runs Android 6.0 out of the box.
As you can tell from the ZTE Grand X Max 2 specs, it has more going for it than your typical mid-ranger so the $199 is a bit more palatable if you're interested in a Dual-Camera setup and want a large handset. The phone is already up for grabs from Cricket in Blue at the link below if you're interested in the ZTE Grand X Max 2.