FC Barcelona Oppo R9 leaks ahead of launch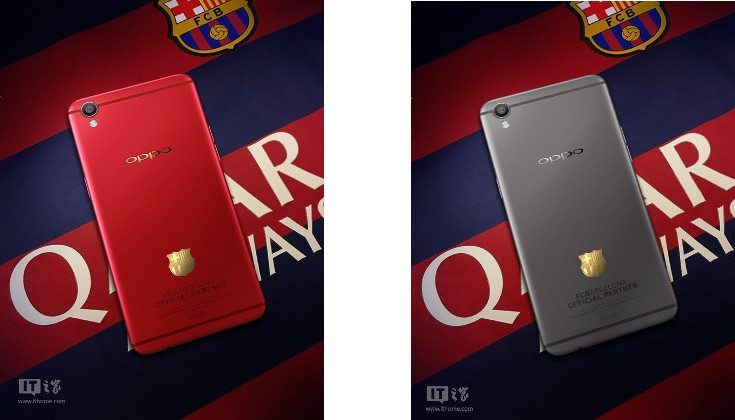 If you reside in Europe, there's a strong chance you are a football fan and have a deep love for your club. Soccer Mobiles don't come along often, but today we've gotten wind of the FC Barcelona Oppo R9, which has just leaked online ahead of an official announcement.
Occasionally, smartphone manufacturers will team up with a company (or club) to produce a themed handset for the masses. While these beauties are generally limited in nature, we've seen several interesting approaches to these types of handsets over the years. In September of 2015, the Oppo R7 Plus FC Barcelona Edition popped up, and now it's time to take a look at the FC Barcelona Oppo R9.
The FC Barcelona Oppo R9 has shown up online in two different colors in Red and Grey. The handset will have the club's logo on its back plate in Gold along with a bit of text letting folks know the phone is official, and that you're a fan of FC Barcelona. In addition to the back plate, the phone will also have a custom UI, ringtones, and is said to be signed by players from the FC Barcelona football club. We assume those will be raffled auctioned off like last year's edition.
As is the case with most themed handsets, the Oppo R9 FC Barcelona Edition will carry the same innards as the regular edition. This means you'll get a 5.2-inch FHD panel, and beneath it you will find a Helio P10 with 4GB of RAM. Other features to note include a 16MP rear camera, 13MP front-facing camera, 64GB of internal storage, and a fingerprint scanner. It has all the usual bells & whistles in the connectivity department and is powered by a 2,750mAh battery with VOOC charging.
At this time, there's been no word on the FC Barcelona Oppo R9 Edition price or release date, but you can expect it to be popular with FC Barcelona fans whenever it arrives. We know there are a lot of you out there, so we'll keep you in the loop as more details come to light.
via – Phoneradar      source: ithome