OnePlus 3 specs and photos emerge from TENAA listing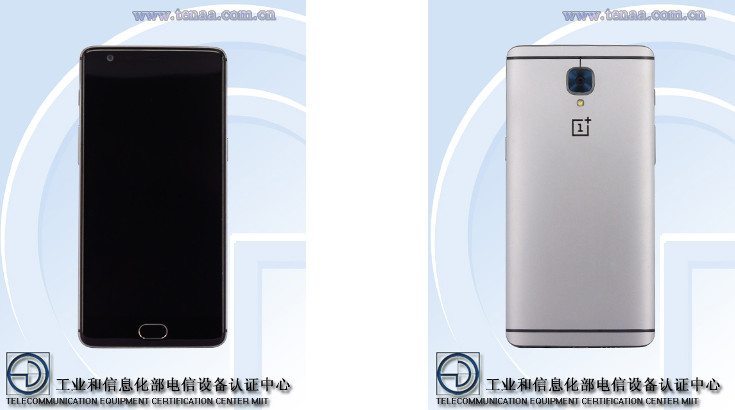 It's safe to say the boat carrying the OnePlus 3 release to distant shores has sprung a large leak. The OnePlus 3 design and specifications are making the rounds again, but this time it's official as the device has been outed through TENAA.
Oh TENNA, how we love thee. In a world where smartphone leaks come in fast and furious, TENAA is one of the main places to get the scoop on upcoming devices in China. Lucky for us, many of those handsets also move on to other parts of the world, while leaving a trail of photos and specifications behind as they pass through TENAA. Today the phone is the OnePlus 3, and we can confirm some of those rumors we've been hearing over the past few weeks.
If you've been following the news, the OnePlus 3 specs are rumored to include 4GB of RAM and a speedy Snapdragon 820. The TENAA listing has confirmed as much, and the same can be said for the display, which is 5.5-inches and still FHD. The rest of the specs line up with the benchmark listings and various leaks as well, so you'll get a 16MP rear camera, 8MP front-facing camera, 64GB of storage, and Android 6.0. In other words, there are no surprises and the design is just what we expected as well.
We don't see 2016 being a make or break year for OnePlus, but it's safe to say you'll get more of the same this year from the company. Incremental upgrades certainly aren't a bad thing, and while the handset will have a few new bells & whistles like NFC, fans may find themselves looking elsewhere if they want a unique design or a QHD panel.
That said, the price point will still make the smartphone quite popular in some parts of the globe, and we'll find out all the official details on June 14th when the company reveals the OnePlus 3 release date.
via – Android Central         source: TENAA