Panasonic Toughpad FZ-A2, a Tough Tablet For the Enterprise Sector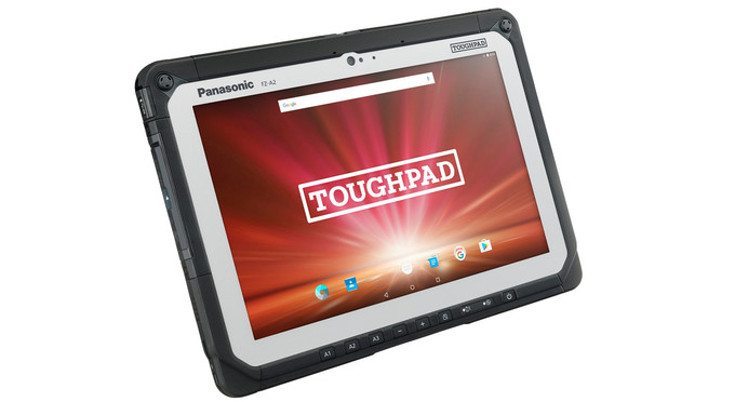 As far as tough hardware goes, the latest Toughpad FZ-A2 tablet from Panasonic is the definition of roughness and manliness, aimed at the enterprise sector. You probably heard about Toughbooks, those "born hard" laptops used by field engineers and oil drillers, being almost impossible to break, but now we have a brand new Toughpad FZ-A2, which combines the convenience of a tablet with the processing power of a mid-range laptop, built and designed for pleasing mobile workers in harsh environments. Also, the Toughpad FZ-A2 is perfect as a showroom tablet, as it's perfectly capable of withstand any kind of abuse with flying colors. The Toughpad FZ-A2 was showcased by Panasonic during the Panasonic Automotive Innovation Summit held in Barcelona-Spain and the first thing that caught my envious eye was its awesome magnesium-alloy built, which is specially designed for withstanding shocks and drops from more than four feet. To make it even more desirable, the Toughpad FZ-A2 is water and dust resistant.
Now, in terms of hardware, this baby features a 10.1 inches wide screen with full HD resolution (1080p) and since it's designed to be used everywhere, especially outdoors by mobile workers, the display comes with an impressive brightness (150 cd/m²) and outstanding sunlight legibility. Also, the display of the Toughpad FZ-A2 can be used with gloves, a feature which is as cool as they come! This tough tablet runs on an Intel system on chip, the Atom x5-Z8550 respectively, featuring a quad-core architecture @1.4 GHz, together with 4 gigabytes of RAM and 32 gigabytes of internal storage capacity. There's also a micro SD card slot for expanding storage space. Taking into account that the Toughpad FZ-A2 measures 10.1" and it's a very powerful and tough tablet, you'd be surprised to find out that it only weighs 880 grams and features a slick profile, of just 16.4 millimeters.
Needless to say, the Toughpad runs on Android 6.0 Marshmallow out of the box together with  Android for Work's Enterprise Security. On top of all these great features, the Toughpad FZ-A2 offers a USB 3.1 Type C port, a 8 megapixels snapper and directional array mics and if you're an enterprise client, you'll be able to customize your tablet by adding a smart card reader, a 2D bar-code reader or 4G/LTE options. Last but not least, the Toughpad FZ-A2 is expected to be launched officially in July for a relatively hefty price tag of ~$1300, but if you're seeking for an enterprise grade rugged powerhouse, this is the best!