LeEco Le 2 and Le Max 2 First Flash Sale – How to Register?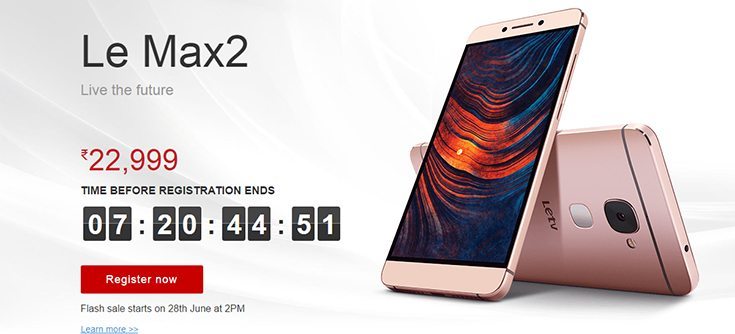 LeEco had announced the Le 2 and Le Max 2 at an event in Beijing earlier this year. One of their most successful markets is India and it is a no-brainer for them to have India as their top priority. They announced the two phones for India nearly 2 weeks back and now the registrations for the first flash sale have begun. The flash sale is scheduled for June 28th and it is going to be one hell of a sale for these two amazing smartphones.
To make it even sweeter for the buyers, there are a lot of discounts and other offers in store. The USP of these two phones is the inclusion of the CDLA Type-C earphones. The earphones, priced at Rs.1,990 ($30), is offered for free along with both the phones. The Type-C earphones are said to offer superior quality compared to the standard earphones.
The phone is available on Flipkart as well as LeMall, and registrations have opened. Registering for the flash sale is a pretty straightforward job. Just click on the links given here and follow the instructions. A one year LeEco membership is up for grabs as well as a 10% cashback offer for all HDFC credit and debit card holders during the flash sale.
LeEco Le 2 and Le Max 2 will go head to head with the phones from Xiaomi. The Redmi Note 3 rules the budget segment and the Mi5 has taken over the flagship segment by storm. Le 2 and Le Max 2 offer the same and even better specs for a lesser price.
The lower end model comes with 4GB of RAM and 32GB of internal storage, while the top end model comes with 6GB of RAM and 64GB of internal storage. The registrations will be up for the next 7 days and the flash sale is scheduled to start at 2PM on June 28th.