TCL (Alcatel) to Build Next BlackBerry Hamburg Smartphone?
Blackberry is a former great company, just like Nokia used to be in its latest couple of years before selling out to Microsoft, struggling with all sorts of marketing problems and production issues. Next month, BlackBerry will showcase their latest smartphone, at least according to the company's CEO; to be more precise, BlackBerry is expected to reveal two cheaper models actually, one of them featuring a physical keyboard (code-named Rome) while the other being a regular touchscreen smartphone (Hamburg). Today's piece of news is that the next BlackBerry Hamburg  will be built by TCL, a Chinese company that manufactures Alcatel-branded smartphones.
Take this piece of intel with a grain of salt, because the proof is highly circumstantial, but check it out anyway: the Wi-Fi Alliance just certified a product made by TCL with the name of DTEK 50, which is rather strange because DTEK is actually the name of BlackBerry's privacy suite  that's found on board BlackBerry's high-end Priv smartphone. But that's not all. The model number on the listed device made by TCL  is STH100-2, which is also striking, since the BlackBerry Priv's model number is STV100-1. Are you starting to get it yet?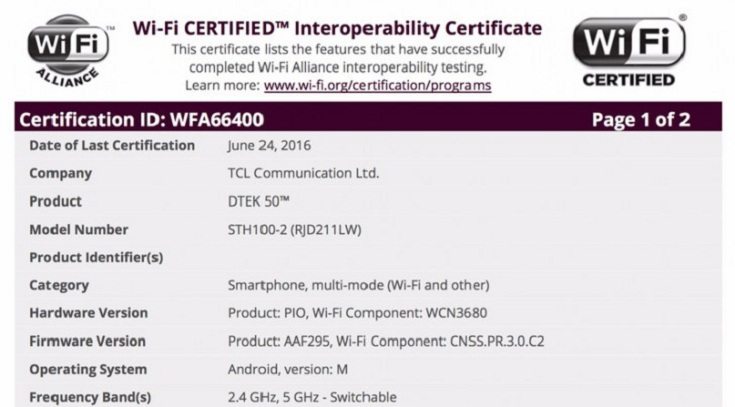 Corroborating these two pieces of intel, it becomes obvious that the old rumor of TCL and BlackBerry joining hands is as real as it gets, as they seem to have signed some kind of an agreement or partnership. According to previous leaks, the next BlackBerry smartphone will bear the improbable name of Hamburg and it will be based on the Alcatel Idol 4, featuring a 5.2 inches wide touchscreen display with full HD/1080p resolution and it will be powered by a Qualcomm Snapdragon 615 system on chip. The Alcatel Idol 4 is basically the same, except for the SD 617 SoC; other than that, the specs are quasi-identical as per the leaked benchmark.  If that's the case, the new BlackBerry Hamburg can be described as an Idol 4 re-branded, looking different maybe but with the same internals. Or, it could be something totally distinct, who knows, but I think today's theory is worth the stretch, until next month when we'll know for sure.