Samsung Galaxy Note 7 Edge photo shows a prototype in the Wild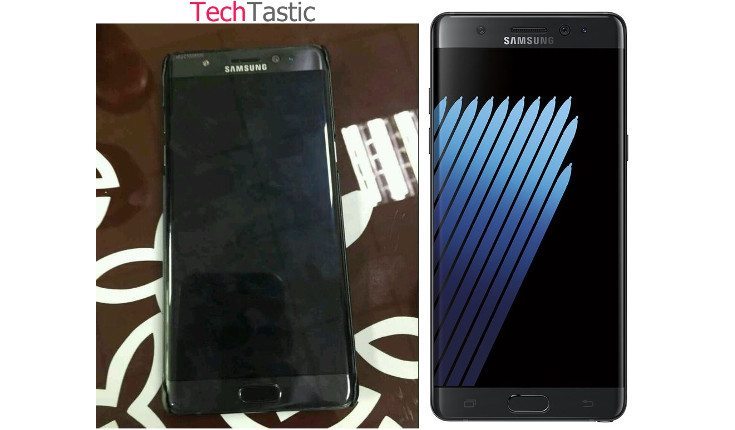 Just in case you needed further proof the Galaxy Note 7 exists, we have it today. A Samsung Galaxy S7 Edge photo has appeared that claims to show the smartphone in the wild, and all signs point towards an edged beauty this year.
We've seen blurry shots from a distance and slick renders of the Galaxy Note 7 as well. Photos actually showing the smartphone in someone's hands are few and far between, so it's always nice to see a live shot whether it is in its final form or not. The new Samsung Galaxy Note 7 Edge photo is of the prototype variety but confirms all the rumors nonetheless.
Techtastic.nl has obtained an image of the Samsung Galaxy Note 7, and as you can see, it's the Edged model and looks just like the recent renders provided by @evleaks. You can also see an Iris Scanner, but aside from that, it looks like a larger version of the Galaxy S7 Edge. That's not a bad thing by any means if you dig Sammy's style, which millions of people do.
Nothing new has come to light on the Galaxy S7 Edge specs, so we're still going to assume it will have 4GB of RAM and either a Snapdragon 820 or an Exynos chip under the hood. That said, Qualcomm did make the Snapdragon 821 official today, so there's that. Other rumored specs include a 12MP/5MP camera combo, a 5.7-inch QHD panel, Android 6.0 and a 3,600mAh battery.
We are now less than a month away from the Samsung Galaxy Note 7 Edge release, and as we expected, the floodgates are starting to open up. There may not be much left to say by the time the smartphone actually takes the stage, but we feel confident it will be one of the more popular handsets this year and a winner in the sales department for Samsung.
via – @themalignant      source: Techtastic.nl