Mesuit iPhone Case allows you to run Android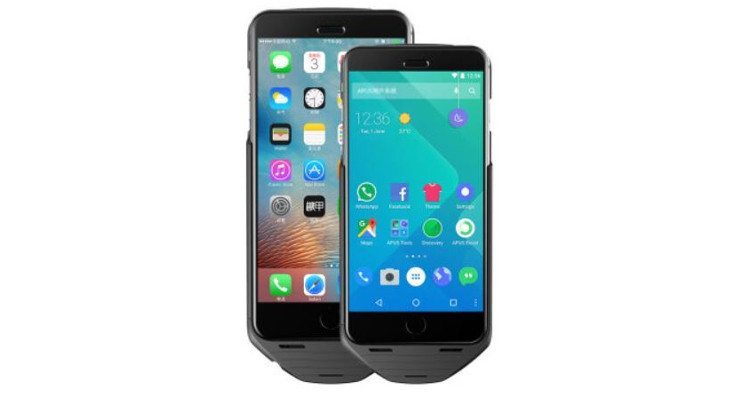 Manufacturers of smartphone cases have come up with some interesting tricks over the years. From extending battery life to adding a bit of flair, we've seen it all. Well, we thought we had until we stumbled across the Mesuit iPhone case.
iPhone and Android don't generally get along, this we know. Aside from some cross-platform games, the world of iOS is filled with exclusives and exotic things like Lightning connectors while everyone else gets micro USB ports. That gap is never going to shrink much, but the folks behind the Mesuit iPhone Case have found a way to temporarily bring both worlds together.
In a nutshell, the Mesuit iPhone Case will allow your iPhone to run Android. Not a launcher or overlay mind you, but full-on Android on an iPhone. The trick behind the tech lies inside the case where you'll find a MediaTek MT6753 processor, 2GB of RAM and 16GB of built-in storage. It's a smartphone within a smartphone case… just let that sink in for a minute.
When you plop your iPhone into the Mesuit Case, a companion iOS app will help manage things while data is transferred through the Lightning port. It's pretty straightforward in that sense, and there is even a nano SIM slot in the case so you can use the Android section and iPhone SIM slot at the same time. The possibilities are endless, just keep your fingers crossed the lag isn't.
The Mesuit iPhone Case is a gadget from the Far East and while it's a bit nutty, it may be popular with tech enthusiasts and folks that need to work with both OS's. At this time, you'll have to reside in China to land one unless you want to go the import route, and it isn't exactly cheap given that it's a mini-smartphone of sorts. The Mesuit iPhone 6 Plus or 6s Plus case is priced at around $165 while the smaller iPhone 6/6s case is listed at $150.
via — Slashgear     source: JD.com