Amazon Hot Deal Alert: a Charging Cable That Works Both on iPhones and Droids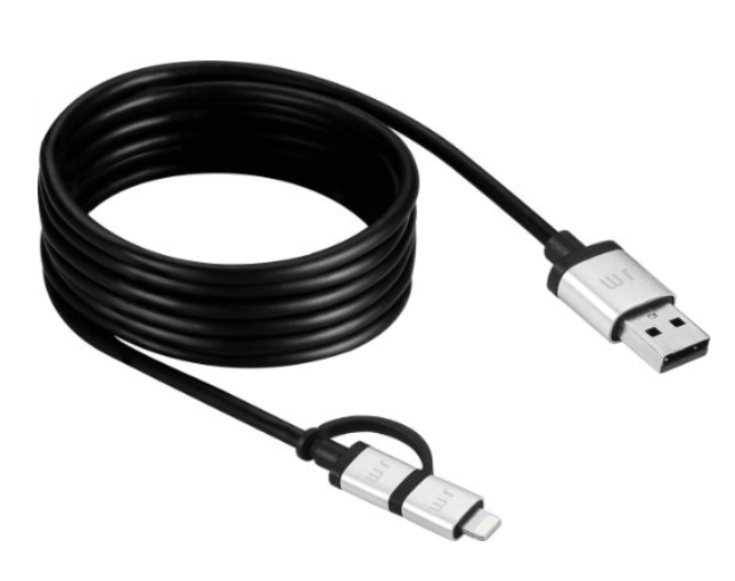 If your family owns both iOS and Android running devices, Amazon just revealed the ultimate charging cable for you, an innovative piece of gear that works for both droids and iPhones (Android/iOS running devices alike). That's pure genius, right folks? Owning different devices means that you're forced to carry with you duplicate accessories for both operating systems, cable chargers included. Or maybe you're a tech aficionado who owns an iPad from Apple (they're the best in my opinion) and an Android smartphone, in order to benefit from the best of both ecosystems.
Regardless what your options are, carrying a bag  full of accessories is now  a thing of the past, as Amazon just begun selling a product which allows you to plug the same (charging) cable into a micro USB port (read Android, beware of USB Type C) or into a Lightning port (enter iPhone/iPad/Mac). The cable comes with the improbable name of Just Mobile AluCable Duo and it's basically the answer to your prayers, as it does two jobs for the price or one. Or at least that't the theory, the price tag being $24,94 with free shipping included.
The cable is 5 feet long (1.5 meters) and it's labeled MFI, meaning that is Apple certified to work on their iPads/iPhones, so no worries in the compatibility department. At one end of the Just Mobile AluCable Duo you'll find a Lightning plug and at the other end an USB connector. Just flip open the plug and you'll discover the micro USB for Android, i.e. using it/switching from one plug to the other is easy and pretty intuitive. The connectors are heavy duty/built to last, shielded and  made from aluminum while the cable itself is also pretty rugged and designed to withstand harsh conditions and tons of abuse. Keep in mind that there's a limited amount of Just Mobile AluCable Duo's so go get yours ASAP.